Spain tops "misery index" that combines unemployment rate and budget deficit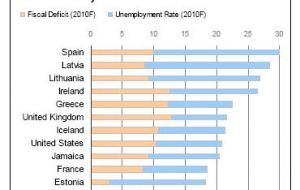 Spain tops a new "misery index" that combines unemployment rates with budget deficits, according to forecasts from Moody's Investors Service. Ireland appears in fourth place on the sovereign-risk outlook for 2010, behind Spain, Latvia and Lithuania.
Of the Group of Seven economies, the UK is set to be the most miserable, in sixth position, edging out the United States by two places.
The Moody's gauge follows a tool created by US economist Arthur Okun in the 1970s which adds unemployment and inflation rates to grade how miserable an economy is.
The new method is "a good measure of the challenges facing some economies in the coming decade," the Moody's economists wrote in the report.
Spain, once the driver of European employment, accounts for almost half of the Euro region's increase in unemployment over the past year.
The European Commission predicts its unemployment rate will reach 20% next year and its budget deficit will total 10.1% of gross domestic product, compared with a jobless level of 8.3pc and a budget surplus two years ago.
Spain's economy, forecast to continue contracting next year even as the rest of the region grows, also fares poorly using the traditional misery index, according to Bloomberg data. While Venezuela tops that list of 59 economies, Spain is in sixth. Malaysia is the least miserable.
Of the 16 economies studied by Moody's, the Czech Republic, Italy and Germany were forecast to be the least miserable.