Mercosur: Finally Brazil's Senate approved Venezuela incorporation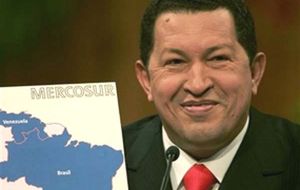 Bringing to close a year-long internal debate over the role of Venezuela in South American political and economic affairs, Brazil's Senate, by a vote of 35 to 27, voted Tuesday to approve the entrance of the country's northern neighbor into the Mercosur trade bloc.
With the vote, only Paraguay's approval remains for Venezuela to gain admission as a full member of the group, which until now has included Brazil, Argentina, Paraguay and Uruguay as regular members.
While the measure gained easy approval in Brazil's lower house, a vote on the matter in the Senate was postponed several times as opposition party members questioned Venezuelan President Hugo Chavez' commitment to so-called democratic clauses in the Mercosur charter and his possible use of the entity to gain greater influence in regional political and economic affairs.
Government-allied Brazilian lawmakers, however, successfully argued that the inclusion of Venezuela in the group would bring distinct economic advantages to Mercosur, and that Chavez' government didn't have the power to unduly disrupt the long-term goals of the entity. They further argued that Chavez' regional political maneuvering would be constrained by his government's adherence to Mercosur regulations.
The vote to approve Venezuela's entrance into the Mercosur bloc was strongly supported by Brazilian President Luiz Inacio Lula da Silva, who submitted the request to congress in 2007.
In addition to its four regular members, Mercosur also includes Chile, Bolivia, Colombia, Ecuador and Peru as observer members. Alongside its function as a regional common market, Mercosur has also aimed to become a regional political forum.
The group has agreed to establish a regional parliament by 2012, with at least 18 representatives from each member country.