Socialist El Salvador president rejects XXI century Socialism
Wednesday, December 16th 2009 - 23:29 UTC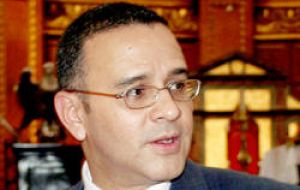 El Salvador president Mauricio Funes said his country will not take a single step towards the incorporation of his country to ALBA or the XXI century Socialism promoted by Venezuelan president Hugo Chavez and defended close relations with United States.
"My government is not going to take any step towards the incorporation of El Salvador to ALBA and the XXI century Socialism", said Funes the first Socialist president of El Salvador
ALBA or the Bolivarian Alliance for the Americas was created in 2004 by Venezuela and Cuba, and later incorporated Bolivia, Nicaragua, Ecuador, Honduras and some islands from the Caribbean.
Funes said that as an elected president he respects but does not share the decision adopted by his political party, the Farabundo Martí Front for National Liberation, FMLN, during a recent convention in which it agreed to support a proposal to summon the V International Socialist.
"One thing is the FMLN as a political party, even when it is represented in the government and another the Executive which I command. The Executive I manage has not joined ALBA nor will it join ALBA, nor is it going to build the XXI century Socialism", emphasized the president who is married to a Brazilian and is a close friend of President Lula da Silva.
He added that FLMN can join "as many internationals as it wishes" but the government program does not contain a single element or a single government policy that could lead to think that the El Salvador administration is obliged or committed to building the XXI century Socialism as understood by Chavez.
Funes ratified that it is the president who defines which groupings of countries El Salvador belongs to or integrates and to which it does not incorporate or adhere.
"I've already taken a very clear stance on this issue: I have decided that our goal is Central American integration, which does not mean that the President, my government and El Salvador can't have a close relation with Venezuela or with Cuba", he added.
Funes also argued in favour of closer relations with United States which he described as a strategic "ally".
"This does not mean submission: it means political pragmatism, common sense. We have almost three million Salvadorians living in the US, how can I possibly start a fight with the United States?" asked Funes.