UK record: one in five working age people economically inactive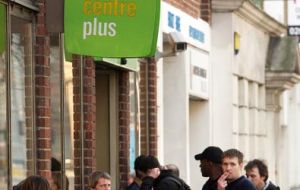 Youth unemployment in the United Kingdom has reached a record high as the jobless total nudged 2.5 million, the worst total since the mid-1990s. The number of 16 to 24-year-olds out of work was 952,000 in the three months to October, a quarterly rise of 6,000 and the highest figure since records began in 1992.
Total UK unemployment increased by 21,000 to 2.49 million, the highest level since early 1995, although the quarterly rise was the smallest for 18 months.
There was some good pre-Christmas news for the British Government in the figures, which showed the first fall in the number of people claiming jobseeker's allowance since February last year.
The total fell by 6,300 to 1.6 million, more than half a million higher than a year ago.
Other data from the UK Office for National Statistics showed that the number of people out of work for more than a year increased by 49,000 in the latest quarter to 620,000, the worst total since 1997.
Unemployment among 18 to 24-year-olds was 757,000, up by 26,000 from the three months to July, the highest since 1993.
The UK's unemployment rate has now reached a 13-year high of 7.9%.
The number of people in work in the UK increased by 53,000 to almost 29 million although the figure is 432,000 lower than a year ago. There were 30 million jobs in the British economy in September, down by 127,000 over the quarter and 649,000 less than a year ago.
The number of people classed as economically inactive, including those on long-term sickness or who have given up looking for a job, was 7.9 million, down by 1,000 over the three months but up by 96,000 compared to last year. More than one in five working-age people are now economically inactive.