New Year for Gibraltar/Algeciras: ferry route reopened after four decades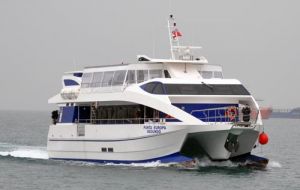 The ferry route linking Gibraltar and Algeciras reopened for business this week, forty years after it was forced to shut down by the closure of the border between Spain and the Rock, reports the Gibraltar Chronicle.
The new service was described as a success for cross-border relations and was launched despite recent tensions between Gibraltar, Spain and the UK over territorial waters.
"We've managed to repair a 40-year gap," said Luis Felipe Fernandez de la Peña, director general for Europe and North America at the Spanish Ministry for Foreign Affairs.
Fernandez was speaking at a reception in the Ferry Terminal having just stepped off the ferry, which sailed from Algeciras just after midday filled with dignitaries and a handful of Spanish journalists.
He was welcomed by Joe Holliday, Gibraltar's deputy chief minister who is also responsible for maritime affairs. Holliday said the ferry was "a product of the trilateral forum" and that it evidenced the good relations that Gibraltar now enjoyed with Spain.
"The impetus from the trilateral forum for dialogue [established in 2004 between the three governments] has created the space for a commercial company to take this step," Holliday said. He added that Gibraltar and Spain's commitment "at all levels" had been instrumental in getting the project off the ground.
A Spanish Foreign Ministry statement said that the inauguration of the service came "within the framework of the Forum for Dialogue agreements adopted in the third ministerial meeting of July 21 2009." It said that this advanced one of the six new areas for co-operation that had been agreed.
"Spain is confident that this example of local co-operation serves, as is the objective of the forum, to favour economic and social development in Gibraltar and the Campo," said the statement.
The ferry, named Punta Europa II in a nostalgic reference to its predecessor, sailed into Gibraltar in heavy rain. But despite the discomfort on the quayside – the journalists and press minders certainly suffered – both Holliday and Fernandez said that, for nautical projects, rain was seen as a good luck omen.
Spanish company Transcoma plans to operate five daily rotations across the Bay of Gibraltar using its new 150-seat catamaran Punta Europa II, with increased frequency at the weekend. Prices for a single voyage will be set at around seven Euros, with a return ticket going for around E12. Discounted tickets will also be sold in blocks of ten, working out at five Euros each.