Uproar of elation for the most beautiful girl in the world: Miss Gibraltar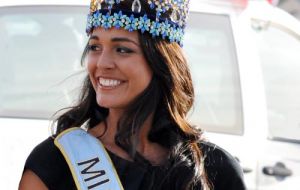 British Overseas Territory Gibraltar came to a buzzing standstill Thursday afternoon, showered in red and white, and bathed in sunshine, to welcome Miss World 2009 Kaiane Aldorino back home. There were unprecedented scenes of jubilation of enormous magnitude, with an entire population wanting to join in this once in a lifetime celebration, wanting to be a part of history – not just local but world history.
On Main Street the crowds were three and four lines deep, with flags unfurled, and confetti hurled high into the air. In John Mackintosh Square the scene was simply unbelievable – standing shoulder to shoulder Gibraltarians jam-packed in the square rocked in cheer. The Spanish press itself cited some 15,000 people. (Total population of the BOT is estimated in 30.000).
There was uproar of elation as the most beautiful girl in the world stepped on to the balcony at the City Hall – the scenes reminiscent of past National Days and most certainly of the return by Gibraltar leaders from the United Nations in the sixties. The sentiment was warm, heartfelt and sheer delight. 'I love Gibraltar," cried an emotional Miss World. The rapturous cheers were deafening. The pouring of emotion, - of hopes, aspirations and dreams come true was overwhelming.
As humble as ever, she added, "If I was a proud Gibraltarian before, I am even prouder now, and proud to be here with everyone – thank you all for all your support."
As the champagne flowed and she made a toast, her family joined her on the balcony and she proudly introduced them… and again she addressed the crowds: "This is a dream come true and I would not be feeling half of what I am feeling inside, if it was not for you. It is a day for all of us. I am proud to be your ambassador."
As everyone sang, rocked and cheered to 'We are the Champions' – the feeling was one of euphoria. Steve Douglas, Miss World Event Director, in disbelief at the scenes he was witnessing declared: "I have taken many Miss Worlds home but we have never had a welcome like Gibraltar – never did we expect this – what a beautiful, beautiful country!"
He announced that during her reign she would be travelling to more than 50 countries, and that she would tell the world about Gibraltar.
Still taken in by the moment, he said: "It was our job to bring your daughter home, the daughter of Gibraltar, to celebrate with the whole country."
As Culture Minister Edwin Reyes joined her on the balcony he proclaimed, "Kaiane, you will always be in our hearts."
As the crowds clapped to the beat of Queen's 'We Will Rock You', Miss World joined in raising her arms with the whole population in triumph – this was definitely her day! And Gibraltar's. (Gibraltar Chronicle).-
Categories: .