UV radiation alert in the Bolivian highlands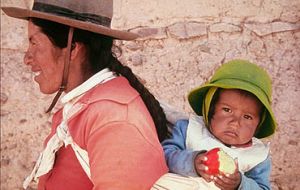 The Ultra Violet radiation index in the Bolivian highlands reached from five to seven out of eleven, which is considered extremely high. Experts have recommended the population to avoid being exposed to sunlight from 10 am to 3 pm, and encourage the use of long-sleeved shirts, hats and sunglasses.
The Bolivian Health Ministry, conjointly launched the alert with the Meteorology and Hydrology National Service, whose representative, Felix Trujillo, explained that during the summer season in the southern hemisphere, UV rays are stronger and directly affect the Bolivian highlands.
He then advised people to "wear suntan lotion, wear protective clothes and stay in the shade".
According to Trujillo, UV rays are the most dangerous ones since they are not always filtered by the ozone layer and a prolonged exposure to them can weaken someone's defences and cause skin cancer.
People in La Paz and the Altiplano - currently the more exposed areas because of their altitude - are advised not to stay in the sun for more than 8 minutes from 10 am to 3 pm.
The scale for measuring the UV index goes from 1 to 11. (1 to 2, being low intensity, 3 to 4 being moderate, 5 to 7 being high, 8 to 10 being very high and 11 being extreme).