Father Christmas arrives for Lan Chile with contract for 30 Airbus A 320
Thursday, December 24th 2009 - 09:52 UTC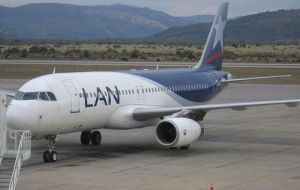 Chilean flag carrier LAN Airlines and its subsidiaries, one of the leading airlines in Latin America, announced Wednesday that the Company signed a contract for the purchase of 30 Airbus A320 family aircraft to be delivered between 2011 and 2016.
The new aircraft will operate flights within Latin America as well as domestic routes in Argentina, Peru, Ecuador and Chile and will be used for the renewal and growth of the Company's short haul fleet.
The order is valued at approximately two billon US dollars according to list prices. Additionally LAN's strategic fleet renewal plan involves the sale of five Airbus A318 aircraft in 2011.
A company release said that the incorporation of the new Airbus A320s reflects LAN's strong commitment to the environment as these aircraft incorporate the industry's latest technology and are highly efficient in fuel consumption, allowing for a substantial reduction in emissions, while also decreasing noise levels.
"This investment ensures the Company's future growth and reaffirms LAN's commitment to the development of commercial aviation in Latin America, as well as to the economic growth and social development of countries in the region. These aircraft are operated by the world's best airlines and feature the latest technology, creating a substantial change in terms of service, quality and comfort, and allowing LAN to offer the best travel experience to our passengers" said Ignacio Cueto Lan airlines Chief Operating Officer.
Lan airlines is one of the leading passenger and cargo airlines in Latin America. The company and its affiliates serve over 65 destinations around the world through an extensive network that offers full connectivity within Latin America, while also linking the region with North America, Europe and the South Pacific, as well as 63 additional international destinations through its various alliances.
Lan Airlines and its affiliates "have a leading position in their respective domestic markets of Chile and Peru as well as an important presence in the Argentine domestic market and has begun operations in the domestic market of Ecuador".
Currently, LAN Airlines and its affiliates operate one of the most modern fleets in the world, with 85 passenger aircraft, and its cargo subsidiary, LAN CARGO and its respective cargo affiliates, have a fleet of 11 dedicated freighters.
The company recently completed its short haul fleet renovation process by acquiring new aircraft from the Airbus A320 family, enabling LAN to improve its efficiency and to reduce significantly its CO2 emissions. The fleet renovation is part of the company's commitment to the protection of the environment.
LAN is one of the few Investment Grade airlines in the world (BBB). The company's world class quality standards enabled its membership in oneworld(TM), the global alliance that encompasses the best airlines in the world.