Australia again threatens Japan with legal action for whaling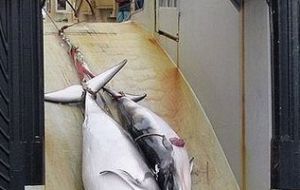 The Australian government insists it will take international legal action against Japan if it doesn't stop whaling. And it will send surveillance boats to the Southern Ocean to monitor the Japan's annual whaling hunt if it needs to mount a legal case
Japanese whalers have begun their annual hunt, with a quota of 935 minke whales, 20 fin whales and 50 humpbacks. Australian Environment Minister Peter Garrett says diplomatic efforts with Japan to put an end to the practice are continuing. And if progress isn't made Australia will look to take judicial action.
"Whaling remains a matter of great concern to us," Mr Garrett told ABC radio on Thursday. "We said that we'd send a ship for monitoring, as we did a couple of seasons back, in the event that there's a necessity to take that legal step."
Meanwhile the crew aboard an anti-whaling ship is confident they will locate the Japanese fleet, despite being harassed by a decoy boat.
Paul Watson, captain of the Steve Irwin says the Shonan Maru 2 has been attempting to prevent his crew from pursuing the whaling fleet for weeks. Watson says his crew will return to Hobart, Tasmania, for fuel, then continue their pursuit of the Japanese whalers.
"We usually don't find the fleet until the first week of January," he told the Seven Network on Thursday. "We are still a week ahead of schedule.
"And I'm confident that (the Steve Irwin) will find them... and I'm sure that we'll cut into their quotas", he added.