Le Monde names Brazil's Lula da Silva as "Man of the Year"
Friday, December 25th 2009 - 15:43 UTC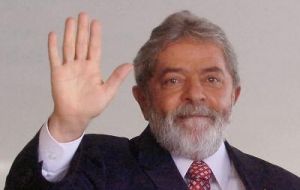 French daily Le Monde named Brazilian President Lula da Silva "Man of the Year" for "personifying a giant". It is the first time in its history the French publication has made this designation.
Lula da Silva, who is leaving his term of office in 2010 without performing an amendment to Brazilian Constitution, "knew exactly how to be a democratic figure and fight against poverty" Le Monde depicts in its article.
The newspaper described him as "a referent to emerging countries and also to the developing world." Lula da Silva, 64, has, according to the French publication, "positioned his country in the world."
The Brazilian president will be leaving his term of office at the end of 2010, without intending to perform a constitutional amendment and, thanks to this, being unable to get re-elected. Le Monde portrays him as the one president who was able to "offer a new image to Latin America." And adds: "Lula's excellent reputation is Brazil's renovation."
The article, written by Rio de Janeiro news correspondent Jean Pierre Langellier, outlines Lula da Silva's profile and praises his administration. "Lula seems to be interested in everything: diplomacy, commerce, energy, climate, immigration, space, drugs", the articles describes.
Lula da Silva was the first Latinamerican president Barack Obama received in the White House. According to Le Monde's view, he came ahead because the former union leader has successfully directed a country that is complex, focusing on economic development, inequality and the protection of the environment. Obama referred to him "as the most popular politician in the world".
The profile the article describes includes pros and cons. As it states: "Even though Lula da Silva has cut poverty figures and millions of Brazilians have improved their ways of living, his country remains to be one of the most unbalanced nations in the world, strongly divided between a rich south and a forgotten north."
A to-do list and "unresolved matter issues" are also included in Le Monde's article. Those are: "Primary and secondary low-level education, deficient health care system, heavy bureaucracy, inefficient police and a lazy justice."
Lula da Silva has been in the media spotlight all through 2009, thanks to his policies and the way in which he has positioned Brazil in the international focus.