Newsweek predicts death of Fidel Castro and coup in Venezuela
Friday, December 25th 2009 - 16:13 UTC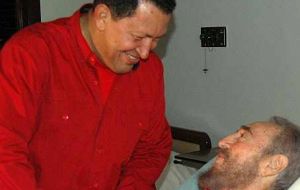 Next year will see the death of the veteran Cuban leader Fidel Castro and the fall of Venezuelan President following a coup, according to the predictions from the latest edition of US magazine Newsweek.
The publication also anticipates that the Tories will be back in office in 2010 in the UK and a surging economy will turn Brazil into the "new China".
The forecasts for Venezuela "strongman" Hugo Chavez are sombre: economic collapse and growing social unrest following "ten years of a buoyant domestic economy and the rocketing of international oil prices and demand".
"The military intervene to oust Chavez and restore order as the XXI Socialism sinks into the well known scenario of the XX century: shortages, poverty and chaos".
The fall of Chavez is the fourth of ten Newsweek predictions which is headed by US President Barack Obama's strategy to increase the number of US troops in Afghanistan, the collapse of the Chinese economy and a coup in Pakistan.
"For Fidel Castro it seems it will be his last year on this earth" forecasts Newsweek.
Following the death of the historic leader of the Cuban revolution, there will be room to help transform the island "but it will not happen overnight". However "the inflexibilities of the past, such as (lack of freedom of speech and free press; migratory restrictions; personality cult; persecution of homosexuals, among others) associated to his name will be reassessed".
The Obama administration will then send a high level delegation to re-establish formal dialogue with Havana. "In a short time, and probably towards the end of the year, US Secretary of State Hillary Clinton would be announcing a plan for full normalization of relations by 2013", according to Newsweek.
As to Brazil the "new China", the magazine argues that the South American giant has advantages over the Asian power (China) which faces serious "risks in the horizon", and over India that is "immersed in a region with instability threats on all its flanks".
As 2010 advances Brazil will increase the gap with the rest of the BRIC countries, (Russia, Brazil, China and India).
Other forecasts include the Conservative victory in the UK; new international sanctions against the Iranian regime; a coup in Pakistan and the beginning of success in the Afghanistan campaign.