Argentine scientists confirm significant decline of multi-specific coastal species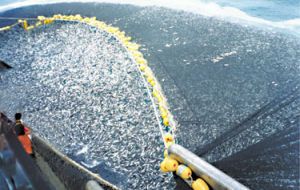 The biomasses and sizes of the main species that conform "multi-specific coastal" species along areas of the South Atlantic continue falling due to excessive catches, contend the latest studies carried out by Argentina's National Institute for Fisheries Research and Development, (INIDEP).
Report 44/09 of the INIDEP indicates that declination continues in spite of the ban imposed in 2004 in 'El Rincon,' an area located to the south of the province of Buenos Aires.
The report discloses that the captures and number of vessels directed at resources like Patagonian flounder (Paralichthys patagonicus), Brazilian flathead (Percophis brasiliensis), narrownose smooth-hound (Mustelus schmitti), ray (Potamotrygon brachyura), South American striped weakfish (Cynoscion striatus) and croacker (Micropogonias furnieri) increased over the last few years.
Facing this worrisome scenario, scientists consider it necessary to contemplate management measures once again, as much for the prohibition in 'El Rincon' – considered key for the reproduction and breeding of the coastal fisheries biomass resources – as for the surrounding area.
Although the Federal Fisheries Council (CFP) limited access to 'El Rincon' outside the time of prohibition, now the measure has been put forth again. Under Resolution 27/09, access to the zone is limited "to those ships that the CFP routinely defines."
According to Pescare, this issue is generating strong debates between coastal vessel ship-owners and fresh fish vessels.
In addition, the CFP established a zone of restricted effort between the external limit of the prohibition area and an imaginary straight line that unites geographic points 39º ' 15 South, 59º 15 ' West, 41º 15 ' South and 61º 30' West.
More over scientific observers were authorized to board vessels that target coastal resources. The objective is to cover at least 10% of vessel trips. (FIS/MP).-