Countdown for 2010 Argentina-Chile Dakar rally which takes off Jan first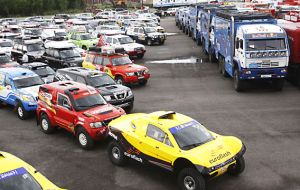 The countdown for the 2010 Argentina-Chile Dakar rally has begun with the arrival in Buenos Aires of all the participants and the over 400 vehicles registered for the grueling competition that will extend until January 17 in some of the most challenging terrains in Argentina and neighboring Chile, including climbing the mighty Andes cordillera .
The massive rally caravan aboard the "Grande Brazile" arrived this week at the Delta Dock complex in Buenos Aires in Argentina in anticipation of the 32nd edition of the competition which begins January first.
In all 550 vehicles, for the most part entered in the rally, others to be used by the organizers and media were unloaded together with all the equipment that left Le Havre, France, November 30th.
The vehicles entered in the competition are now stationed in a closed parking lot from where they will leave to proceed with technical and administrative verifications set up by the organizers at the huge facilities of La Rural in Palermo. Verifications are scheduled to take place on December 29, 30 and 31st.
The field of vehicles entered will be completed by an estimated twelve machines from Argentina and other regional countries, as well as those cars, bikes, quads and trucks from South American competitors.
Participation of South American competitors in the Dakar rally this year has beaten all records.
The rally which takes off from and ends in Buenos Aires, begins with the official presentation ceremony of the 184 motorcycles and quads, 138 cars and 50 trucks on the podium across from the Obelisk, on the 9th of July Avenue, one of world's major boulevards.
Organizers and competitors are certain this edition will be even more successful than last year's competition, when the rally was moved from Africa to South America.