Argentina anticipates record crop of "green gold" soybean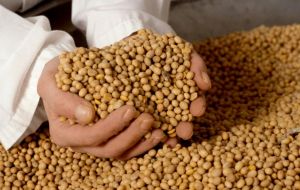 Argentina's "green gold" soybean 2009/2010 crop is forecasted to establish a new record, 50.8 million tons, according to the Chamber of Commerce from Rosario, located at the epicentre of the country's oil seed production.
The Rosario Chamber states that in spite of the months-long drought (and the ongoing conflict with the government of Cristina Fernandez de Kirchner over export taxes), soybeans which have become Argentina's main export item will reach a new production rector albeit in detriment of land dedicated to other summer crops: corn and sunflower.
The area to the planted with "green gold" is estimated in 18.7 million hectares which means soybean will encroach on traditionally corn producing areas in the provinces of Cordoba, Santa Fe, Buenos Aires, Entre Rios, Chaco and Santiago del Estero. Another oilseed, sunflower will also be loosing ground to soybeans.
The average yield for the coming soy crop is estimated in 2.700 kilos per hectare.
The Rosario chamber technical department anticipates that this year's summer crops will benefit from the El Niño phenomenon which ensures abundant rainfall and an unexpected heating of the South Atlantic along the province of Buenos Aires helping to attract humidity to the continent.
Last year's crop of soy beans in Argentina totalled 46.4 million tons equivalent to almost 24 billion US dollars.