Fish exports from Buenos Aires blocked or delayed because of labour conflict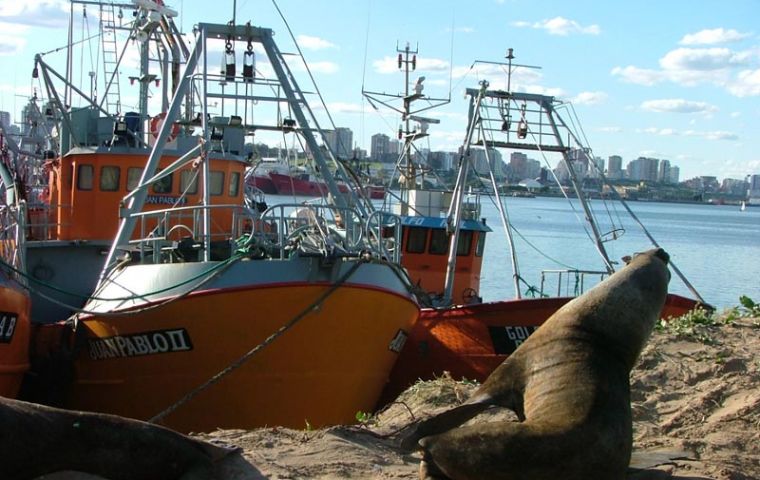 The main maritime agencies operating in the River Plate are seriously considering cancelling the port of Buenos Aires and concentrating trade in Montevideo, given the labour conflict with the tugs arising from a long standing dispute in the Argentine fishing industry sector.
According to the Buenos Aires press the Argentine union of United Maritime Workers, SOMU, for over a week now has been denying tug services to all those vessels entering Buenos Aires and transporting containers with fresh or frozen fish, sea food, squid and/or fish meal.
So far at least 18 vessels have suffered the consequences of SOMU's decision and 200 containers with fish produce remain stranded in the port unable to be exported.
Although a ship's manifest can only be required by Customs, SOMU is demanding to check it looking out for containers with fish produce, if not no tugs service to enter or leave Buenos Aires port.
"SOMU is demanding we show them the manifest and if it includes fish produce we are forced to unload those containers. This has delayed operations, we've lost windows of access to Montevideo and Brazilian ports and daily freight losses to the tune of 25.000 US dollars" complained a maritime agent.
The Buenos Aires Navigation Centre has described the situation and delays as "costly and unjustified" and warns about what can be expected: "a serious congestion of vessels, cancellations, transfer of cargo to Montevideo and huge losses for local maritime agencies and Argentine exporters".
Omar Suarez head of SOMU said that most workers in the fishing industry in Mar del Plata are not registered and "we are demanding that processing plants register all workers so they can have access to social security benefits and salary negotiations".
Therefore "we have decided to block all fish industry exports originated in Mar del Plata" said Suarez.
However according to press reports there's also infighting since SOMU is not the only union because the Argentine government certified a local union from Mar del Plata, thus cracking the main union's monopoly.
"Our vessels are out at sea fishing, but we can't export. We're not involved in this unions' conflict", said Oscar Fortunado head of the Argentine Fishing corporations Council.