Korea wins 40 billion USD mega-project to build nuclear plants in UAE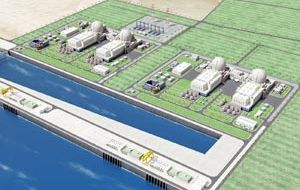 A South Korean consortium has been awarded a contract worth an estimated 40 billion US dollars to build four nuclear power plants in the United Arab Emirates. The group, led by the Korea Electric Power Corp (Kepco), beat bids from a US-Japanese group and a French firm.
South Korean officials said the deal was the biggest single contract the country had ever won abroad.
Though the world's third largest oil exporter, the UAE says only nuclear power can meet its energy demands.
The nuclear reactors should all be in operation by 2020, by which time demand for electricity in the UAE is expected to have more than doubled. The first is scheduled to begin supplying power in 2017.
As well as Kepco, the winning consortium includes Samsung, Hyundai and Doosan Heavy Industries, as well as US firm Westinghouse and Japan's Toshiba.
The South Korean president's office described the deal as "the largest mega-project in Korean history".
It also represents that first time the country has exported a nuclear power plant.
South Korea first introduced atomic power in 1978 and now has 20 nuclear reactors in operation