Negative image of Cristina Kirchner's administration at historic low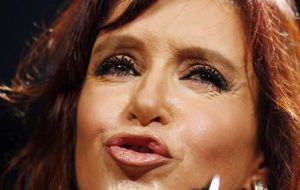 After two years in office (December 10) the administration of Argentine president Cristina Fernandez de Kirchner has one of the lowest support ratings in the country's history according to a public opinion poll from Datamatica released this month.
The poll shows that the positive image of Mrs. Kirchner's government has plummeted to 17% while the negative image has soared to 65%. The Datamatica poll includes 4.125 interviews in 80 different Argentine cities, towns and villages.
The evolution has been dramatic points out Datamatica: from a positive image of 41% on 18 March 2008, on the 100 first days of Mrs. Kirchner's administration, support has not ceased to erode reaching 17% this month. The negative image on the other hand has rocketed from 27% in March 2008 to 65% currently.
Cristina Kirchner's performance has a higher rating to the north of the country: 35% in Tucuman; 34% in Catamarca and Formosa, all provinces highly dependent on federal government's aid. On the other extreme in Tierra del Fuego her positive image is merely 7% and 11% in Cordoba and Santa Fe, which are among the leading financially and politically provinces in Argentina.
In Buenos Aires City and Buenos Aires province, which concentrates almost half of the country's electorate, the presidential image is only 15% positive.
An interesting finding is that Mrs. Kirchner's positive image is notoriously low in the province of Santa Cruz, 23% while the negative image in 60%. Santa Cruz is where former president Nestor Kirchner was born and has been for the last 25 years the political turf from which the couple moved on to "capture" the Argentine presidency back in 2003.
As to the most irritating issues for public opinion, security, law and order figure top of the list with 85% of interviews disapproving how the government is handling the challenge. The manipulation of the Statistics Office, Indec, numbers and percentages also figures high in the list with 75.2% disapproval and finally 68.4% are not pleased how the Argentine economy is being managed.
However it is not only the Kirchner administration that has seen its image deteriorate: according to Datamatica in the last twelve months all provincial governors, including those from the opposition, have seen their positive image fall while the negative side has increased reflecting an overall feeling of disenchantment among Argentina citizens.