Polls have Governor Serra leading comfortably in Brazilian presidential race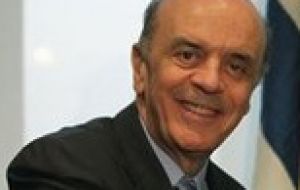 The opposition Social democrat governor of Sao Paulo, Jose Serra, remains as the clear leader to win next year's Brazilian presidential election, according to the latest public poll released by the top selling magazine Istoé.
The poll done by Vox Populi gives Serra a vote intention of 39% compared to 18% for cabinet chief Dilma Rousseff whom President Lula da Silva is strongly promoting as the candidate for the ruling coalition.
She is followed by member of the Lower House Ciro Gomes from the Brazilian Socialist Party with 17% and former Environment minister Marina Silva running for the Greens with 13%.
The Brazilian presidential election is scheduled for October 2010.
Vox Populi played a combination of presidential tickets, taking as a fact that the presidential race will have a run off. If governor Serra takes as his running mate Senator Katia Abreu and Rousseff, runs with the president of the Lower House Michel Temer, the advantage for the leading team would be even greater, 44% to 21%.
Vox Populi also revealed that Ms Rousseff has a greater rejection percentage that the other hopefuls: 18% against 15% for Ms Silva, 13% for Serra and 8% for Gomes.
So far none of the Brazilian political parties has formalized its presidential candidates but the names in the opinion poll are understood to be almost certain.
The ruling Workers Party of President Lula da Silva is expected to confirm Ms Rousseff in a convention sometime in the first quarter of next year. The Workers Party is trying to convince the ruling coalition's senior member and the largest political force in the Brazilian congress, PMDB Brazilian Democratic Movements Party, to join the ticket by filling the vice-president slate.
Among Brazilian Social Democrats there are no doubts that Serra will be the candidate since his main rival, Minas Gerais governor Aecio Neves announced earlier this month he would not be disputing the presidential primary.
With Neves stepping down Serra clearly will have a second chance to run for the Brazilian presidency which he lost the first time in 2002 to then union leader and now President Lula da Silva.
The Brazilian president has been in office two running four year periods but is constitutionally barred from a third consecutive mandate.
The Vox Populi poll collected data between December 12 and 18, with interviews to 2.000 voters in 170 cities of Brazil.