Argentina begun enforcing "reciprocity tax" in Ezeiza airport
Tuesday, December 29th 2009 - 08:38 UTC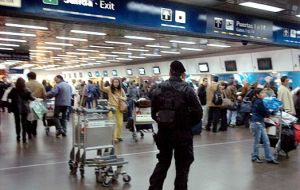 All foreign visitors arriving in Argentina's international airport of Ezeiza and who live in countries that charge the Argentines before they enter, will have to pay a reciprocity tax.
The measure became effective Monday and applies to all those arriving as tourists, students or for business.
Interior Ministry Florencio Randazzo indicated that the "total tax will be equivalent to the one that Argentines pay to get their visa to travel to these countries. Argentina will not ask for a visa but will charge a tax as Brazil and Chile do with those foreign tourists who come from the countries that ask for visas."
Randazzo said that what "the country collects from this tax will allow us to modernize the migration control." He added that the "tax will be charged once the foreign tourist enters the country and it will be applied firstly in Ezeiza International Airport."
The tax ordered by the decree 1654/2008, will have to be paid in US Dollars or Argentine Pesos, and the prices will be: US$100 for Australians, US$ 70 for Canadians and US$131 for US citizens.
Argentina's Migration Office said that the embassies involved had been informed of the decision, as well as tourism operators and airlines.