China poised to become world's second largest economy in 2010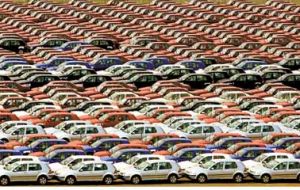 China is expected to become in 2010 the world's second largest economy displacing Japan according to economic forecasts from Beijing's Statistics Office and reported in the China Daily.
Estimates from consultants JD Power and Associates published in The New York Times have China consolidating as the world's leading automobile market ahead of the United States.
China's GDP is expected to reach this year the equivalent of 4.6 trillion US dollars and in spite of the global slowdown is forecasted to expand at least 8% in 2009 and next year thus overtaking Japan with a GDP of 4.9 trillion USD, but in the midst of stagnation and deflation.
Growth in China for 2008 was also reviewed upwards from 9% to 9.6%.
Car sales this year in China are expected to reach 12.7 million compared to the 10.4 million of the US. However still distant from the US all time record in 2000 of 17.4 million cars and difficult to emulate following a year when at least 1.500 US dealers were forced to close down and the industry considers it the worst year in half a century.
Chinese statistics indicate that the economy expanded 8.9% year on in the third quarter, compared to 7.9% in the second quarter and 6.1% in the first quarter of 2009. This means in the first nine months of the year China's GDP grew by 7.7% making the 8% for 2009 more achievable.
On the other hand exports, one of the pillars of China's economic success which suffered a significant battering because of the global financial crisis, since last March have signalled a slow positive change.
Last November China's foreign trade expanded 9.8% over the same period a year ago and for the first time in twelve months has ceased to fall.