First signs Beijing is reassessing bank loans and interest rates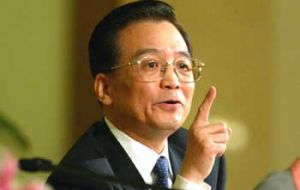 China admitted fears about increasing inflation, resulting from the strong stimuli program, and also cautioned that Beijing will not yield to foreign pressures to let the Yuan appreciate.
In a rare interview Chinese Primer Minister Wen Jibao told Xinhua there are growing inflationary expectations arising probably "from the too aggressive reply to the financial crisis. We could be paying the price of success".
However Wen Jibaro rejected point blank foreign criticisms to China's foreign exchange policy arguing that a stable Yuan has helped to stabilize the global economy and discarded any possibility of letting the Chinese currency appreciate.
"Keeping the value of the Yuan virtually stable has been our contribution to the international community at a time when all the main currencies of the world have lost value", underlined the top Chinese official.
Economists are forecasting that China will tighten credit conditions in China but so far little has been done to reverse the policies with the main purpose of stimulating growth through generous bank credits and government expenditure.
Wen Jibao only repeated what has been the official line on the issue: "the government will not tolerate excesses".
The Primer Minister said that the value of real estate is soaring "too fast" in some cities, an issue which demands a "close monitoring" from government.
Wen Jibao said that high prices can be addressed with a possible hike in interest rates and admitted that excessive bank loans at the beginning of this year "could backfire".
He added that the Chinese government was well aware of inflationary expectations which are reflected in higher prices for commodities and the monetary expansion.
"China currently is not facing inflation problems, but we must be prepared for such a possibility and keep consumer prices at a reasonable level".
Nevertheless China experts affirm that Wen Jibao's message does not mean Beijing will not let the Yuan appreciate, sometime next year forced by the sucess of its exports.
His statement must be interpreted as linked to international pressure: no yielding to outside demads.
But Wen Jibao is basically admitting that the reply from Beijing to the global crisis was possibly excessive in some areas, particularly bank loans.
"We must pay some price when facing such unexpected difficulties on dealing with such a huge crisis", he reiterated. "It would be positive for our bank credit to be more balanced, better structured and at a smaller scale" pointing to the fact that the Chinese economy bounced back strongly in the second quarter.