Companies listed in the London Stock Exchange raised record £ 82.5 billion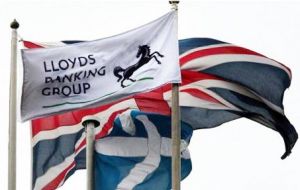 Companies listed on the London Stock Exchange (LSE) have raised a record £82.5bn from investors in 2009. The LSE said investors had been keen to take up offers of new shares despite continued concerns over the economy.
The total amount raised was 16% higher than in 2008, with rights issues by banks largely responsible for the increase. In November Lloyds Banking Group alone raised £13.5bn from shareholders in the world largest ever rights issue.
On the main market, which includes the FTSE 100 companies, more than £50bn (79.5 billion USD) was raised through rights issues.
HSBC raised £12.5bn from existing shareholders in March in order to avoid taking taxpayers' money from the government, while Royal Bank of Scotland also sought extra money to shore up its balance sheet.
Other large capital-raising programmes came from the mining company Rio Tinto, which raised £7.3bn from the markets, and the homebuilder Barratt Developments, raising more than £545m.
Tracey Pierce, head of equity primary markets at the London Stock Exchange Group, said the findings demonstrated that investors were prepared to back companies in testing times.
"Our markets continued to support the capital-raising needs of companies across the year... providing firms with the backing they need to help them through testing market conditions," she said.
However, much lower sums were raised through initial public offerings (IPOs), where companies list their shares on the stock market for the first time.
Just over £1bn was raised through IPOs in 2009, compared with more than £20bn in 2007 at the height of the IPO market, the LSE said. (BBC).-