IDB record loan approvals but needs capital increase by 2011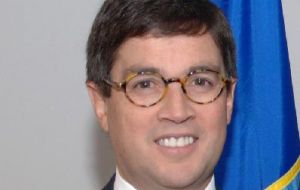 The Inter-American Development Bank set record levels of loan approvals and disbursements in 2009, playing a counter-cyclical role by providing financing to Latin American and Caribbean countries in the face of the global economic crisis.
IDB, which on December 30th marks the 50th anniversary of its establishment, approved 165 new operations totaling 15.9 billion USD this year, up from 11.2 billion USD in 2008. Disbursements rose to nearly $12 billion from $7.6 billion last year.
In his year-end report to the Bank's Board of Executive Directors, IDB President Luis Alberto Moreno underscored the rapid response to borrowing countries' heightened demand for financing, noting that the region faces better growth prospects in 2010 after weathering the global downturn.
Moreno said that while Latin America and the Caribbean avoided an economic collapse like the ones that followed crises in past decades, neither the region nor the IDB should be content with simply averting disaster.
"We must not forget that for some 200 million people still living in poverty in Latin America and the Caribbean, the relative strength of macroeconomic policies or financial institutions in many of our nations is an abstraction with next to no impact on their living standards," he said.
According to Moreno, the region now has a "historic opportunity" to break the vicious cycle of financial crises that upended its economies and set back its development.
"The fact that our economies are still standing after this crisis leaves us with no excuses," Moreno said. "The political and economic maturity our region has displayed, as well as the response capacity of our governments and multilateral institutions such as the IDB are proof that Latin America and the Caribbean can shape their own destiny."
IDB was able to address the growing demand for support from borrowing member countries thanks to reforms it has been carrying out over the past two years to gain agility, flexibility and financial strength. These structural changes allowed the Bank to boost its lending as well as the number of operations without significantly increasing its staff or administrative costs.
However, to continue providing similar levels of support and avoid a sharp drop in lending starting in 2011, the IDB will have to expand its authorized capital, which currently stands at 101 billion USD. Of that total, only about 4% is paid in; the rest consists of pledges from its 48 member countries.
Last March the Board of Governors – the IDB's top policymaking body, where all member countries are represented – called for an assessment of the need to add resources to the Bank's ordinary capital and the Fund for Special Operations, its source for concession-lending for the region's poorest countries.
Moreno noted that as part of this assessment, the IDB made a series of adjustments required by member countries to improve the Bank's products and services and to raise its effectiveness in terms of risks management, transparency and accountability.
The Board of Governors could arrive at a decision on a capital increase – the ninth replenishment in the IDB's 50-year history – at an annual meeting scheduled for March 2010 in Cancun, Mexico.
A capital increase would enable the IDB to better assist Latin America and the Caribbean countries that wish to attain higher growth rates in order to eradicate poverty and close the region's inequality gaps.
Among this year's landmarks, Moreno emphasized the positive net flow of resources to the region, totaling 6.5 billion USD, more than three times last year's volume. Other highlights included:
The IDB completed the biggest liability management operation in its history, converting 26 billion USD in outstanding loans (more than half its lending portfolio) to fixed interest rates and/or dollars, helping borrowers take advantage of historically low dollar interest rates.
In partnership with Spain, the IDB approved 1.8 billion USD for projects in water and sanitation, a key sector for closing the inequality gap in the region.
IDB granted debt relief totaling 511 million USD to Haiti and tripled the allocation of grants for the region's poorest countries to $250 million for 2009/2010.
The Dominican Republic was the first country to tap a new IDB credit facility for natural disaster emergencies, established to cover urgent spending derived from hurricanes and earthquake.
IDB succeeded in mobilizing additional resources from other lenders to support major infrastructure projects in the region, such as Rodoanel Oeste, Sao Paulo's beltway and finally two loans totaling 101 million USD will back the construction of wind farms in Mexico to generate clean electricity for cement company Cemex and the Wal-Mart retail chain