Ronaldo the most profitable player in Real Madrid's history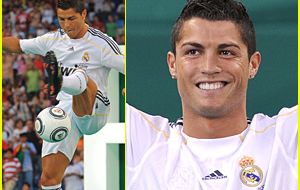 The Portuguese striker Cristiano Ronaldo purchased for the record sum of 94 million Euros is proving to be the most profitable player in Real Madrid's history, generating as much as 80 million Euros annually in publicity revenue, according to the Spanish press.
Publicity revenue is shared between Real Madrid and the Portuguese company Gestifute which manages Ronaldo's image. Cristiano, 24, has definitively dethroned David Beckham, 34,as the world's icon in football publicity and could be making up to 200 million Euros per year in publicity contracts in the coming years, reports the Spanish sports magazine As, quoting Real Madrid sources.
Ronaldo whose sales of T shirts also generate significant revenue has contracts with Nike (sports wear), the Portuguese Espirito Santo bank and in a near future the Italian designer Armani, replacing Beckham, reports the Spanish press.
The only previous experience was with another Ronaldo, the Brazilian player who at his time also proved to be a jackpot for his team with the income generated from publicity and the colours of Real Madrid.
Cristiano Ronaldo, World Player of the Year in 2008 was transferred this year to Real Madrid from Manchester United and is paid over ten million Euros annually.
Categories: .