Scientific warning that Argentina's hake TAC "high risk scenario"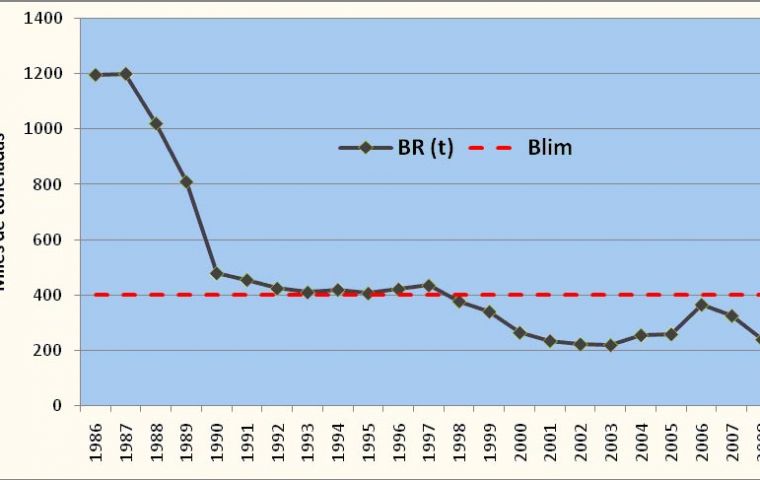 Measures recently adopted by the Argentina's Fisheries Federal Council regarding hake TACs imply very high risks for sustainability and, therefore, to the continuity of related economic activities throughout the country, claims the Centre for Development and Sustainable Fisheries (CeDePesca).
Despite the fact that the reproductive biomass of the Southern stock decreased again in 2008, moving away from its lower limit (see graph), and although the research institute (INIDEP) advised to further reduce the TAC from 207 to 170 thousand tons, the Fisheries Federal Council set a TAC of 290 thousand tons!
What is the basis for such audacity from the Council?
INIDEP developed a new calculation method which helped it demonstrate that at least 10% of catches were discarded and around 20-30% were under-reported. In other words: they recognized that reported catches only represent 60% of real catches. It has also been supposed that the latest measures to fight IUU fishing, adopted in line with the EU rule 1005/2008, will be translated in accurate reports as of January 1st 2010. Thus, the Council has decided to issue a "sincere" TAC figure (one which assumes no discards and no under-reports will happen) and has distributed it following the new quota system criteria.
But key questions arise: Will under-reports currently "negotiated" at harbors be truly eliminated? Will discards be effectively minimized?
Something is for real: new measures to cross trade and plant-processing data to improve traceability and accuracy of reports for the exporting chain are being prepared to be put in place as of January 1st, yet public opinion still needs to fully understand how those procedures will work and how they will be extended to the local market control.
Regarding reduction of discards, this is a long-time announced goal, but it seems we will have to wait beyond January 1st to see if it is solved.
For the Northern stock the newest calculation method was not applied, and despite INIDEP advised a TAC of 35.000 tons (to be shared with Uruguay), the Council established a TAC of 48.000 tons just for Argentina.
Once again fishing authorities appeal to the rationale of "sincere figures".
We really wish they do achieve that. But the control system has not been implemented yet, no one knows how effective it will be or how many more adjustments will be needed to get effectiveness, while the TAC has been already established assuming that everything will work perfectly.
Indeed, this magic number (290.000 tons) for the Southern stock was decided a long time ago, before any scientific advice was issued, and CeDePesca stated that a couple of months ago. It was a condition to make the quota allocation process acceptable to every player, and adequate equations appeared just on time.
Beyond arguments, we have here two iron-truths: the first is that during the last two years these stocks, instead of recovering, have decreased; the second is that if the authorities do not accomplish their commitment of adjusting and improving controls, monitoring, scientific advice, information crossing and discards, the night to come will be long and cruel for too many people.
By Centre for Development and Sustainable Fisheries (CeDePesca)
Mar del Plata, December 21st, 2009-12-21