Special New Year with a blue moon in the Americas and partial eclipse in Asia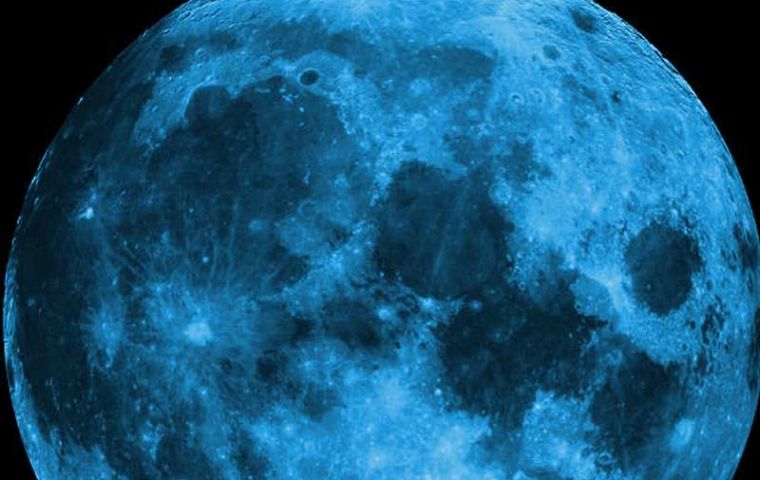 The blue moon has long been a subject of poetry and one of those phrases that are used without quite understanding the meaning, but its presence is a scientific marker for a rotating earth that runs by its own clock, ignoring man's calendar.
This phenomenon will happen on Thursday the last day of 2009, as the second full moon in a calendar month appears in the night sky, an occurrence called blue moon and on time for the New Year countdown.
The last time it happened was in 2007, when sky gazers saw one full moon on June 1 and another one on June 30 of the same month. The first full moon this month occurred on December 2. And only once in every 20 years, the blue moon appears on New Year's Eve, as it is going to do this year.
The New Year's Eve blue moon will be visible in the United States, Canada, Europe, South America and Africa. For partygoers in Australia and Asia, the full moon does not show up until New Year's Day, making January a blue moon month for them.
However, the Eastern Hemisphere can celebrate with a partial lunar eclipse on New Year's Eve when part of the moon enters the Earth's shadow. The eclipse will not be visible in the Americas.
"If you're in Times Square, you'll see the full moon right above you. It's going to be that brilliant," said Jack Horkheimer, director emeritus of the Miami Space Transit Planetarium and host of a weekly astronomy TV show.
A full moon occurs every 29.5 days, and most years have 12. On average, an extra full moon in a month - a blue moon - occurs every 2.5 years. The last time there was a lunar double take was in May 2007. New Year's Eve blue moons are rarer, occurring every 19 years. The last time was in 1990; the next one won't come again until 2028.
Blue moons have no astronomical significance, said Greg Laughlin, an astronomer at the University of California, Santa Cruz. "'Blue moon' is just a name in the same sense as a 'hunter's moon' or a 'harvest moon,"' Laughlin said in an email.
Conrad Jung, a staff astronomer at the Chabot Space & Science Centre in Oakland describes it "as just a colloquial term, which means very, very rare".
"It's not so much a phenomenon but an event of timing," Jung noted. "It's a bit esoteric, to say the least".
Agrarian cultures paid more attention to full moons because their night time illumination could extend the working day during planting and harvest seasons, Jung explained. The September full moon, for example, is known as the harvest moon in the United States.