Sub zero temperatures across Britain will welcome the New Year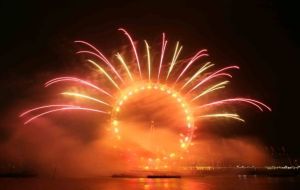 Revellers are gearing up to give a warm welcome to 2010 even though sub-zero temperatures are expected across Britain. Final preparations are being made for huge fireworks displays to usher in the New Year in London and Glasgow.
Hundreds of thousands of revellers are expected to brave the cold to hear Big Ben strike midnight in London and to join Hogmanay celebrations in Glasgow and Edinburgh.
However authorities have cautioned that anyone heading out to join the parties is urged to wrap up warm and make sure they have planned how to get home safely once the festivities end.
London's fireworks will be held at the London Eye and Mayor Boris Johnson said the spectacular display would show the world that "the most exciting city on Earth" is looking forward to the future with "optimism and energy".
The Metropolitan Police urged revellers heading for central Westminster to watch the display to arrive early as official viewing areas alongside the River Thames can fill up by 9pm.
Senior officers said visitors should wrap up warm and plan their route home before they start drinking as the massive crowds can cause long delays. There will be road closures on both sides of the Thames from 6pm on Thursday.
Deacon Blue will entertain a 10,000-strong sell-out crowd in George Square, Glasgow, before 2010 begins with a fireworks display over the City Chambers. Strathclyde Police Chief Superintendent Bernard Higgins urged people partying in Glasgow to drink sensibly and keep an eye on their valuables.