Uruguay's outgoing and incoming administrations agree on transition process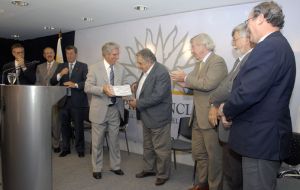 The Uruguayan government begun Tuesday the formal transition process during a ceremony attended by President Tabare Vazquez, president elect Jose Mujica and most of the cabinet of the administration that will be officially inaugurated next March first.
In his speech President Vazquez underlined the need to "institutionalize" the future steps for a fluid transition process so that the whole action is done "responsibly, is transparent, open and comprehensive" to the benefit of citizens and for the good international image of Uruguay.
To that effect Vazquez handed Mujica a list of documents with reports as to the state of each cabinet ministry and promoted "face to face" contacts between outgoing and incoming officials of the two administrations.
Mujica praised Vazquez for trying to make possible a change of administrations of such characteristics and described transition as "rationality in the job and in the art of the good management of the country's resources".
Mujica and his ticket companion vice-president elect Danilo Astori, who won the November 28th election were present at the ceremony with members of the new cabinet, all belonging to the ruling catch-all coalition Broad Front which repeats another five year mandate.
The incoming cabinet includes three former Tupamaro urban guerrillas, who spent time in prison following their active participation in acts of violence during the sixties and when their objective was to overthrow the elected government of the time.
The irruption of the Tupamaros in Uruguay's political scenario was followed by a military government that lasted from 1973 to 1984.
The three former guerrillas are Eduardo Bonomi, Luis Rosadilla and the current Mayor of Montevideo, Ricardo Erlich and will be holding the ministries of Interior, Defence and Education and Culture, respectively.
Another former guerrilla, Lucia Topolansky, --wife of Mujica--, as the most voted Senator will be third in the line of succession behind the President and Vice-president.