Argentine archbishop convicted for sexual abuse
Thursday, December 31st 2009 - 12:04 UTC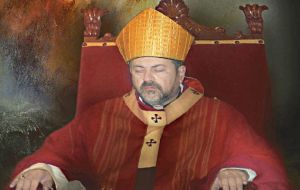 Argentine cleric gets 8 years in sex abuse case. An Argentine judge convicted a former Roman Catholic archbishop Wednesday of sexually abusing a seminarian in 1992.
Former Santa Fe Archbishop Edgardo Storni received a sentence of eight years, the minimum for aggravated sexual abuse, defense attorney Eduardo Jauchen said.
Jauchen told a Buenos Aires radio that he has appealed, saying the case against his client lacked proof and was based on "rumors, suspicions and one-sided accounts". Storni would likely serve any time under house arrest because he is over 70.
Storni resigned in 2002 amid various abuse accusations. Judges threw out most of the cases, but the one involving the seminarian moved forward. He is the fourth Argentine cleric to be convicted of sex crimes.
In the most famous of those cases, a court sentenced Father Julio Grassi, who won fame running a foundation for poor youths, to 15 years in June for molesting a boy who participated in the program.