Global trade recovery from major contraction in 70 years forecasted slow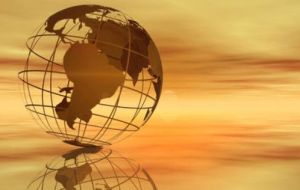 Global trade is expected to pick up again this year at a significant rate but not sufficient to overcome losses of 2009. Last year trade plunged 12.25% the worst result in seventy years and a full recovery can only be anticipated for 2011 when China will be confirmed as the world's leading exporter.
According a Brazilian Economic Policy and Analysis think-tank the current global crisis did not begin with trade, but exports were undoubtedly one of the fastest transmitters of the problems which erupted in the US housing and mortgage sectors.
Lack of credit in the US market forced many companies to cease selling and importing inputs. For exporting countries this had the effect of eroding demand thus leading to the closure of factories and unemployment.
Furthermore governments had to come to the rescue of those sectors worst hit and pay unemployment insurance to millions of workers laid off which resulted in huge budget deficits that will continue well into 2010. Another factor is that the lack of credit made exports dearer mainly for the emerging countries.
As a consequence those countries with economic models based on exports suffered a major tsunami.
But apparently recovery started in the third quarter of 2009 with an end to the fall in production and global trade contraction.
To the surprise of many last September world exports registered a 5.3% record expansion and in Latinamerica with Brazil leading, imports during the third quarter experienced their highest increase in the world. However the region was still the only to suffer a contraction in exports.
According to the Brazilian think-tank the expansion of world trade in volume was 4.3% during the third quarter of last year reflecting the return to moderate growth in some countries which have begun importing again.
Apparently global trade rebound became evident last July when contraction ended and a tepid expansion was visible.
But numbers are stilly highly volatile on a monthly basis: in August world trade suffered a contraction of 1.5% but in September, expansion was 5.3%.
With the exception of Latinamerica all other world regions registered an increase in exports during the third quarter. The contraction in Latinamerica was 0.6% compared to the previous quarter. Therefore in September the index was positive with 8.3%. Latinamerica was the region with the largest import expansion in September, 9.7% with the third quarter imports' growth in the range of 6.8%.
But in spite of the third quarter recovery world trade remains below the volume and value on mid 2008, concludes the report.