HMS York has arrived in the Falkland Islands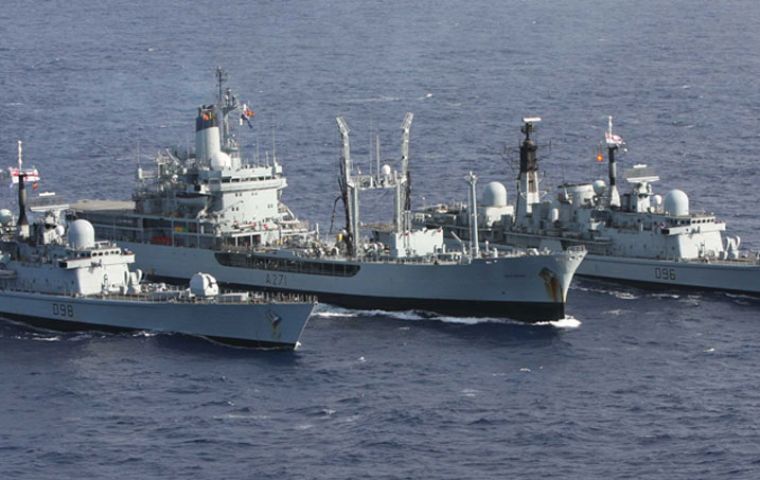 HMS York arrived in the Falkland Islands on 2 Jan 10, having met up with the homeward bound HMS Gloucester and the tanker RFA Gold in the area around Rio de Janeiro
The last of the Type 42 destroyers to be built for the Royal Navy, HMS York for the next six months is assuming duties as the South Atlantic Patrol Ship (known as APT South). She replaces HMS Gloucester.
HMS York is expected to visit Stanley formally towards the end of Jan 10 when the ship will be open to visitors, date and time to be confirmed.
For the remainder of their time in the Falklands HMS York will be conducting routine patrols around the Islands as well as supporting 3 Yorks and 1 Yorks patrols and exercises; visiting the outlying settlements; participating in exercises, particularly with air assets based at BFSAI and generally supporting the 1,200 strong tri-service contingent at the Mount Pleasant Complex.
Launched in 1982 and accepted into service in March 1985, she is the twelfth ship in the Royal Navy to bear the name. Very proud of such a historic name, the ship has a strong affiliation with the City of York who bestowed the Freedom of City on the ship in March 1991.
The ship's sponsor is Lady Gosling and her charities include the Children's ward, York Hospital and the St. Leonards Hospice, York. She has affilitations with Nestle UK Ltd. and The York Lions to name a few.
The Ship's motto 'Bon Espoir' means Good Hope and was the motto of Edmund Langley, the First Duke of York 1341-1402, who was the fifth son of Edward III.
The UK is committed to its responsibility of protecting human rights and foreign policy of the Falkland Islands in international relations and maintains a permanent presence to protect them against military aggression.
For this purpose the Royal Navy has a significant deployment in the South Atlantic. It has the standing commitment known as the Atlantic Patrol South which is central to the ongoing security and protection of the Falkland Islands and other British territories in the region: South Georgia and South Sandwich Islands.
Consisting of either a destroyer or frigate, and supported by a RFA vessel and often by a submarine the patrol spends long periods in the South Atlantic visiting the territories and monitoring activities in the waters around them.
The patrol also visits countries in the vicinity to foster good relations in the region through defence diplomacy activities. (Royal Navy, a global force 2009: securing Britain's future; Keeping the Falklands British by Darren Lake)