Buenos Aires Mayor tossed his hat into the Argentine presidential ring
Wednesday, January 6th 2010 - 11:18 UTC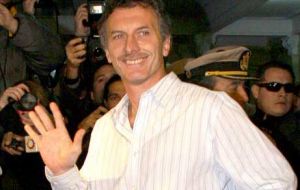 Buenos Aires City Mayor Mauricio Macri tossed his hat into the 2011 Argentine presidential ring by saying that it would be a "boyhood dream" to face off against ex-president Néstor Kirchner next year. "We are building a candidacy" he underlined.
Macri's candidacy comes immediately after Vice-President Julio Cobos said more or less the same thing over the weekend.
"Who wouldn't want to go into a runoff against Kirchner?" asked Macri rhetorically, arguing that whichever opposition candidate made the runoff would "win for sure ... that's obvious," given the ex-president's highly negative image.
"Kirchner could never win a second round" insisted Macri. At no point did he consider the possibility of current President Cristina Fernández de Kirchner running for re-election.
Macri belongs to a rich Italian family with significant interests in industry, real estate and services. His political career has been quite meteoric based on his exposure as the president of Argentina's most popular soccer team, Boca Juniors, which under his stewardship has conquered several local and international cups.
In the Peronist ruling coalition camp, dissident Congressmen Felipe Solá and Francisco de Narváez (who defeated Kirchner's list in Buenos Aires province in last June's mid-term elections), also have their hats in the ring, as has former president Eduardo Duhalde.
But the brand new candidate Macri clearly playing for the middle ground, also faced some serious problems from inside his own centre-right PRO party: he was forced to disown party colleague Diego Guelar's who called for an amnesty for the crimes of the 1976-83 military dictatorship to be put to a referendum.
"I'm in favour of sending to trial absolutely everything which happened in the past and any kind of murderer must pay the consequences," said Macri, who however argued that Guelar's stance had been misrepresented, claiming that his aim was to "reconcile our tragic past with a broad amnesty law once all the trials in progress had been completed".
Guelar's initiative (proposed in the closing days of 2009) was rejected across almost the entire Argentine political spectrum, including various members of PRO. Human rights lawyer Rodolfo Yanzón added his voice, pointing out that an amnesty means that crimes not only go unpunished but are forgotten, and that crimes against humanity are denied any statute of limitations.
Former ambassador to Washington Guelar (currently PRO's international relations secretary) had argued in his statement that human rights depend on "their full exercise ... by all inhabitants of our country," thus making it necessary to produce a broad amnesty law to "reconcile our tragic past".
"Pardon is not to wipe out memory or avoid the judgement of history, it is to apply our Judaeo-Christian values to the service of reconciliation and the construction of a better future', Guelar's statement also said.