Busted with salmon farming, Chilean community tries marine tourism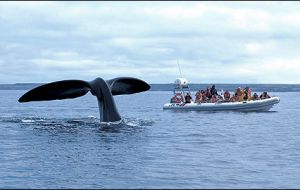 Quellón, a small Chiloé Island community in the south of Chile that once was entirely dedicated to the salmon industry, is hoping growing interest in marine tourism will bring the local economy back to life. The bottom fell out of Quellón's economy last year when the salmon industry went under, leaving half the community out of work.
The community — the last stop on the PanAmerican highway, on the southeast edge of Chiloe Island (Region X) — is a prime location for tourism. The surrounding waterways flow out into the Pacific, home to a large population of marine life, including giant blue whales. Hotels and tour companies are already starting to pop up in the area and the local government says a development plan to promote entrepreneurship and tourism is in the works.
Until recently, Chile was the world's second largest exporter of cultivated salmon, but the industry has been deeply impacted by an outbreak of the Infectious Salmon Anemia (ISA) disease in 2007. That, combined with the effect of Marea Roja (or Red Tide, a harmful excess of algae) and the recent global economic crisis, has hit Quellón and surrounding communities even harder than those on the mainland.
"If anything, the crisis helped us to see that tourism is a viable option," says Ana Maria Jaramillo, who came back to the area after living 30 years in the United States.
Quellón Mayor Ivan Haro estimates 10,000 jobs have been lost over the past two years. Around 2,500 people have registered with the Municipal Employment Bureau, waiting for work, and an additional 4,300 people have left the city — home to only 25,000.
Trade association SalmonChile predicted that 2010 will be the salmon industry's worse year, with about half the production of 2008. Marine Harvest, the world's largest producer of farmed salmon, was one of the first companies to announce job cuts, in 2008, and since there have been thousands of layoffs in the industry.
By Eva Salinas - Santiago Times