Chavez keeps his word and closes shops for price rises following devaluation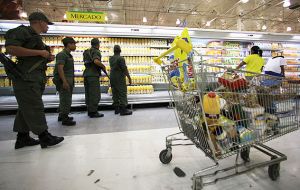 Venezuelan government inspectors backed by soldiers have shut more than 70 shops in Caracas and other cities accused of trying to cash in on last week's currency devaluation. Soldiers have been on the streets to check prices as people queue to buy imports, fearing prices could rise.
Devaluing the Bolivar by at least 17% will aid competition and cut reliance on imports, President Hugo Chavez says. On Sunday he warned that businesses engaging in what he called speculation would be shut down or taken over.
As soon as trading started again after the president's comments a series of supermarkets and other businesses across Venezuela were taken over by government tax inspectors.
State-run news agency ABN said food, car parts and other businesses were temporarily closed "for changing the price of products and for speculation".
The National Guard stepped in at three superstores belonging to the Exito supermarket chain. State television showed the alleged rises in prices on everything from plasma television screens to packets of cereal.
The Bolivar's official exchange rate, which is set by government decree, had been held steady at 2.45 to the US dollar since the last devaluation in March 2005.
But on Friday, President Chavez announced that it would now have two rates - 2.60 to dollar for "priority" imports, and 4.30 to the dollar for other items considered non-essential, 50% devaluation. Venezuela already has the highest rate of inflation in Latin America, currently at about 25%.
President Chavez says that these measures will rein inflation in but many economic analysts predict that it will only get worse in the short term.
Oscar Meza, director of a Venezuelan economic think tank, Cendas, predicted the move would push annual inflation above 33%.
President Chavez dismissed the criticism on Sunday on his weekly television and radio programme, Alo Presidente, saying there was "no reason for anybody to be raising prices".
He urged his supporters to "publicly denounce the speculator" and warned business owners that he had asked the military to formulate an "offensive plan" that would see them "take over any business, of any size, that plays the bourgeois speculation game".