Barramundi, the Sexy Green Seafood conquering the US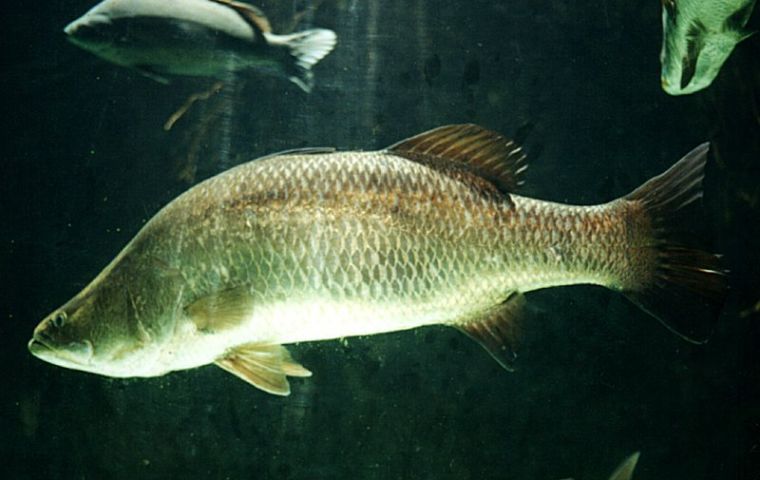 There's a new fish in town that's heating up skillets US chefs: it was named a "Hot Culinary Trend for 2010"; The Daily Green and Fabien Cousteau call it "sexy" and the US Green Nutritionist Kate Geagan dubs it a "lean and green super-food". Its name: Barramundi.
Popularized by Australis Aquaculture, the Massachusetts-based sustainable aquaculture pioneer that won the 2009 Seafood Champion Award; this sweet and mild fish is earning raves for its mouth-watering flavour, health benefits and eco-friendly pedigree.
Barramundi has been prized for generations in Australia for its mild, buttery flavour and succulent texture. And now it's available in supermarkets and restaurants throughout the United States. Barramundi is similar to premium fish like red snapper, striped bass, and Dover sole, but without the high price tag.
Australis Barramundi passes health benchmarks swimmingly. Hormones, antibiotics, and additives are never used, and stringent testing eliminates the risk of contamination from mercury, PCB's and other pollutants. With just 137 calories per 140 grams portion, 2.5 grams of non saturated fat and lots of lean protein, it's great for a healthy diet. Unlike tilapia, Australis Barramundi provides an ideal balance of omega-6 to omega-3 levels.
Australis frozen barramundi is sustainably raised by family-owned farms or line caught from small boats in the pure waters of their natural habitat. Barramundi is ranked a 'Best Choice' by all the major consumer seafood guides (Monterrey Bay Aquarium, Blue Ocean Institute and Environmental Defence).
And unlike other carnivorous fish such as salmon or cod, barramundi thrive on a largely vegetarian diet because of their rare ability to synthesize omega-3 fatty acids from plants. Farmed salmon can require up to 2.25 kilos of small fish to produce each pound of product, resulting in a net loss of biomass, not a good practice for a planet with declining fisheries.
Australis' proprietary farming systems and specialized feeds leverage barramundi's biological abilities and result in a net gain of fish protein, thus producing a healthy product with a small environmental footprint. That's one of many reasons why Australis Aquaculture was crowned a '2009 Seafood Champion' for their ocean -friendly practices.
Australis Aquaculture is an award-winning provider of healthy, sustainable seafood, marketed under the banner of The Better Fish, Better Tasting, Better For You, Better For Our Environment.
The Company spearheaded the introduction of barramundi as a growing culinary trend in North America, and offers a line of fresh and frozen barramundi to the retail and foodservice markets. Australis is a recognized leader in sustainable aquaculture through its pioneering practices in re-circulating technology, and offers a complete line of sustainably produced seafood. (FIS)
Watch this video of nutritionists rave about Australis Barramundi's flavor, health and sustainability benefits at the 2009 American Dietetic Association's Food & Nutrition Conference in Denver, CO.