Chile's Concha y Toro, one of the world's top ten exporters of wine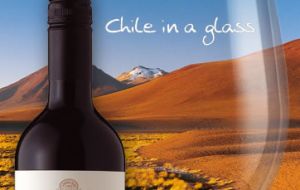 Chilean wine brand Concha y Toro increased its export volumes by 22% in 2009, according to figures released by the company over the weekend.
The export data also reveals that the company, Chile's biggest wine producer, is becoming a global leader in the wine industry. Concha y Toro exported 26.6 million cases of wine in 2009, making it the eighth largest producer in the world.
The United Kingdom is the brand's biggest market, consuming nearly 30% of global exports. The brand is also the most popular Chilean brand in Britain, with its products representing 31% of all the Chilean wine sold in that country.
The United States is the second largest consumer of the company's products, holding 18% of the market.
Asian countries have been identified as emerging markets for Chilean exports. Sales in Japan increased by 30% in 2009 compared to the previous year. Japan is the Chilean wine industry's sixth biggest market, consuming nearly five percent of all exports.
Concha y Toro's figures confirm this trend, with the firm reporting a 7.2% growth in exports to China in 2009. The company exports to over 130 countries worldwide and hold 7,000 hectares of vines across Chile and Argentina.
The global market is dominated by American companies with Constellation, Gallo and the Wine Group the top three producers in the world.
By James Fowler - Santiago Times