Conservative Piñera ends 20 years of centre-left rule in Chile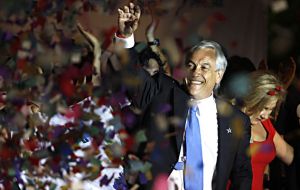 Chilean billionaire Sebastián Piñera won a landmark victory in Sunday's presidential election, becoming the country's first conservative leader since the end of the military dictatorship of Augusto Pinochet two decades ago.
Three hours after balloting, 99% of polling places reporting Piñera had 51.6% of the vote, compared to 48.3% for Eduardo Frei, the former president who was the candidate of the centre-left Concertación coalition that has ruled Chile since 1990.
Eduardo Frei conceded defeat early Sunday evening. He wished president elect Piñera "success" in his next four years and called on the ruling coalition to "remain united", insisting that the political project of a more inclusive country and with greater spirit of solidarity remained as strong as ever.
Piñera, 60, with interests in Chile's biggest airline (Lan Chile), a soccer club and a television station, had to overcome questions over his business dealings, as well as memories of the Pinochet dictatorship.
Although Chile has the most stable economy in Latinamerica, Piñera benefited from voter fatigue with the Concertación after a decade when economic growth was less vigorous than it had been during much of the 1990s.
Piñera has anticipated he will be "entrepreneurial president" in the next four years and promised to make the public sector more efficient while stimulating private investment. He takes over next March 11 from President Michelle Bachelet, who is highly popular but prohibited by the constitution from serving back-to-back terms.
Piñera heads a self-styled "New Right" that has made a greater effort to reach out to the poor and minority groups. He has promised to maintain a number of Mrs. Bachelet's popular social programs. Piñera caused a stir in this socially conservative country by appearing alongside a gay couple in one campaign spot.
The race tightened in the final weeks as the Concertación closed ranks behind Frei and the former president (1994/2000) tried to link Piñera to the dictatorship of General Pinochet, who governed with an iron hand from 1973 to 1990.
Piñera backers "have spoken a lot about it being their turn now, but they had 17 years, and now Chileans can compare" Mr. Frei said Sunday, as he voted.
Those tactics put Piñera on the defensive, even though he took pains throughout the campaign to distance himself from Pinochet, pointing out he voted "no' in a 1988 referendum the dictator called on extending his rule.
Concertación also tried making an issue of Piñera's business practices, pointing especially to a controversial 2006 stock purchase he made in LAN Airlines shortly before the release of an earnings report. Securities regulators fined Piñera about 700,000 USD for violating his "duty of abstention" from buying stock, an administrative breach. Piñera maintained the case against him was politically motivated.
But the Concertación's campaign couldn't overcome the lack of charisma of the dour Frei, 67. Furthermore Concertación also suffered from internal divisions. A youthful Concertación congressman named Marco Enriquez-Ominami broke with the coalition last year and ran an insurgent campaign that gained sizeable support in the first round of voting in December. Enriquez-Ominami offered only tepid support for Frei prior to Sunday's runoff.
Frei conceded the election when results from 60% of polling places had been announced early Sunday evening. "It was a clean and transparent election (and) and most Chileans gave their support to Sebastián Piñera" said Frei. He said he was proud of belonging to Concertación which steered Chile's transition from dictatorship to democracy. "Chile is much better than the country we received in 1990," he said.
Piñera has pledged to rev up Chile's lackluster growth rate. Piñera proposes tax incentives, new infrastructure projects and a shake-up at the state-owned copper company, part of which might be sold off to pension funds.