US and NZ share the biggest wind farm in Antarctica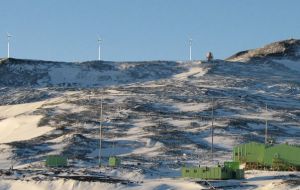 The biggest wind farm in ice covered Antarctica and which can generate enough electricity to power 500 homes, was formally switched on this weekend.
The joint New Zealand-US project's three huge turbines will provide 11% of the power needed to run the two nations' science bases on Antarctica's Ross Sea coast, cutting greenhouse gas output, lowering fossil fuel use and reducing the risk of fuel spilling in the continent's pristine environment, officials said.
The 11 million US dollar wind farm is located on Crater Hill, half way between the United States' McMurdo Station and New Zealand's nearby Scott Base.
While the turbines have been operating well since December, the formal turn-on ceremony took place on Saturday, with New Zealand Foreign Minister Murray McCully and US Ambassador David Huebner officiating by video link with the site from New Zealand's northern city of Auckland.
Noting the two countries share a commitment to increasing the world's use of renewable energy resources, Mr McCully said it was "fitting we have worked so hard together to get this wind farm up and running in Antarctica, one of the world's most pristine and fragile environments".
The farm has a power output of about one megawatt and could cut annual diesel use at the bases by 460.000 litres and reduce annual carbon dioxide output by 1,370 tonnes, said Alan Seay, spokesman for New Zealand's Meridian Energy, which installed the turbines.
Each of the towers is designed to withstand wind gusts of up to 128 miles per hour.