Piñera considers a unity cabinet but faces Congressional hurdle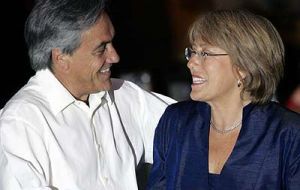 Sebastián Piñera in his first day as Chilean president-elect anticipated he could include members of the ruling coalition Concertacion in his future cabinet.
"We aspire to a cabinet not only of the (winning) Coalition for Change but also with independents and possibly even from Concertación" said Piñera during a meeting with foreign correspondents. "I want a national unity government. We are going to name a new government team and a team of excellence".
In the morning President Michelle Bachelet visited Piñera at his home to personally congratulate him on his Sunday victory which ended the twenty years of Concertacion that steered Chile from the military dictatorship of General Pinochet to democracy.
Whether Piñera finally achieves a unity cabinet can be interpreted as a good signal for the markets and governance, however his main obstacle will be in Congress where he does not have a majority in any of the two houses, further constricted by a constitution, legacy from the Pinochet years, that is extremely demanding as to the majorities needed to approve legislation.
The congress which emerged in the first round of the presidential election December 13 had no decisive winner and is virtually prisoner of a few independent votes to achieve the necessary majorities.
"The new president will have to continue with the agreements policy which has been implemented so far. I think he faces a Congress where none of the two main forces have a majority and therefore he will be forced to negotiate", said Claudio Fuentes, a political scientist from the University of Diego Portales.
Although the ruling coalition managed two years ago in mid term elections slight majorities it was forced to negotiate with the opposition and share the presidencies of both houses, particularly in those issues which under the Pinochet constitution, demand a high approval quorum.
In the Senate the ruling Concertacion (made up mainly of Socialists and Christian Democrats) has 19 seats and the Coalition for Change 17 plus two independents. Similarly in the Lower House the current ruling coalition will have 54 members while Piñera's group 58. However they will be prisoners of 3 Communists, 3 former Christian Democrats and 2 independents.
Furthermore one several reasons which contributed to the defeat of the ruling catch-all coalition are its internal disputes. A dissident Socialist, Marcos Enriquez Ominami, who ran as an independent calling on the new generations of Chileans had an exceptional showing in December (criticizing both main candidates in their sixties as belonging to the "old Chile" and unfit to rule for the new generations). He has promised to remain independent and act as a rigorous, but loyal and constructive opposition.
The Christian Democrats were also not completely satisfied or united behind their leader and Concertacion presidential candidate, former president Eduardo Frei.
The president–elect Coalition for Change also has its misgivings but could bury them now that they will be in office.
Where Piñera could have more leeway is in foreign policy and on Monday he sent a clear message stating that he has "deep differences" with the way Venezuelan president Hugo Chavez interprets democracy, but anyhow he will try to have the best possible relations with that country.
"I have many differences with the way that public issues are being addressed in Venezuela. I want to say this straight and clear: those differences are deep and have to do with the way democracy is conceived and practiced; the way the economic development model is conceived and much more", said president elect Piñera.
However "we believe is the self determination of the peoples and non interference in other countries affairs, therefore we will continue to toil for the best possible relations, of mutual benefit for all Latinamerican countries, including Venezuela".
Two other thorny issues with neighbours await Piñera: land-locked Bolivia's ever present demand for a sea outlet and sea limits with Peru, to be decided by the International Court of The Hague, plus a recent military spying ring Peruvians claim to have discovered and could involve Chilean officers.
Last but not least in the immediate agenda is Argentina. Although under the two lady presidents (Michelle Bachelet and Mrs. Kirchner, with a great personal affinity) relations have been excellent, it has to be seen what happens from next March since Cristina Fernandez de Kirchner and Piñera are at opposite poles when it comes to economic policies.
When Mrs. Kirchner's husband Nestor was president relations between the neighbouring countries were strained mainly over the supply of natural gas. The Chileans have finally solved the problem by mounting two re-gasification plants along the northern coast enabling to cut the Argentine-gas-dependency, and if necessary in very harsh winters even pump some across to Argentina.