Chile and China make huge investments to increase copper production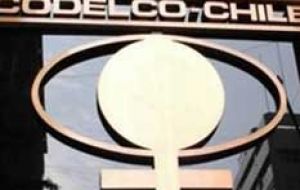 Chile's state-owned mining company, Codelco, last week announced a 1.9 billion US dollars project to develop a subterranean mine at its Chuquicamata opencast mine facility in Chile's northern Atacama region (region III).
The plans form part of a 2.3 billion USD record investment package publicized by Codelco last week.
Experts insist that this project is essential for the long term future of the firm.
"If Codelco wants to survive it needs new projects like the subterranean mine," said former Codelco president Marcos Lima.
Codelco chiefs submitted an environmental impact assessment (EIA) to regional environmental authorities on Friday. The EIA tackles environmental concerns regarding increased gas emissions and the impact of tunnelling operations on local aquifers.
The firm hopes to begin construction later this year with an initial 25 million USD investment. Codelco expects the project to take eight years to complete and estimates a 42-year lifespan for the mine. Reports suggest that subterranean reserves exceed 4 billion tons of copper and 310 million tons of molybdenum.
The investment will make Chuquicamata Codelco's largest facility, with production levels surpassing those at the El Teniente facility 80 km south of Santiago which is currently the world's largest subterranean mine.
The Chuquicamata open pit mine was the scene of an industrial dispute between Codelco and miners unions earlier this month. Workers finally signed a new 38-month contract giving them each a four percent pay hike and a bonus of 24,000 USD after several months of negotiations and strikes.
The Chilean state has used Codelco's profits to fund social welfare programs, although President-elect Sebastian Pinera recently vowed to sell off parts of the company.
Chilean press reported over the weekend that Codelco is expected to post annual profits for 2009 in the region of 3.5 billion USD.
While this figure represents a 30% fall on 2008 profits, industry experts maintain that Codelco performed better than expected in the last quarter of 2009. Codelco blames the profit shortfall on falling global copper and molybdenum prices.
In other mining news, the Chinese government will this week announce plans to part finance exploration work undertaken by Chinese mining firms operating in Chile.
"The Chinese government will cover 40-50% of the exploration costs incurred by any Chinese mining companies searching for deposits overseas" said Fernando Reyes Chilean ambassador to Beijing. "As the world's largest copper producer, Chile is a prime target for this financing."
This policy follows a recommendation made last October by the Chile-China Mineral Commission that Beijing should directly invest in Chilean mining operations in order to boost Chinese industry.
As the world's biggest mineral consumer, China is becoming more important to Chile economically.
Chinese mining firm Shunde Rixin recently announced a 2.2 billion USD investment in the Vallenar Iron ore mine in Chile's Atacama region. Economists predict that reserves at the Vallenar facility will satisfy 10% of China's iron ore demand in the coming years.
Chile's trade with China grew by 6.3% in the nine months up to September 2009, while the Asian giant has toppled the US as Chile's most important customer for the past two years.
By James Fowler - Santiago Times