New ball game in the US senate: Obama looses "super-majority"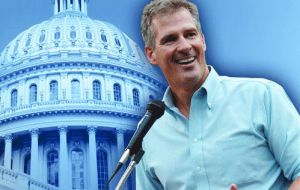 US President Barack Obama called on Democratic lawmakers not to try to "jam" health-care legislation through Congress before newly elected Republican Senator Scott Brown is seated. The election of Senator Brown means the end of Obama's "super majority" in the Upper House and comes on the first anniversary of the presidential inauguration.
Senate Majority Leader Harry Reid echoed that sentiment, saying lawmakers would hold off on health care until Brown, whose victory imperils the measure, arrives in the Senate.
"I would advise that we try to move quickly to coalesce around those elements in the package that people agree on" Obama said in his first public remarks since Brown won the special election in Massachusetts Tuesday to fill the seat held for almost a half-century by the late Edward Kennedy.
Obama said the Republican win in a race for a post long held by a Democrat shows "people are angry, they are frustrated," as they were in 2008 when he was elected.
"The same thing that swept Scott Brown into office swept me into office," Obama said, according to an excerpt released by the network. Democratic lawmakers said it was too soon to determine the best path forward to revive prospects for the overhaul, Obama's biggest domestic priority.
House Speaker Nancy Pelosi told reporters "the message from Massachusetts" is there are parts of the Senate bill voters don't like. The desire would be "to go a little bit of a different path," she said.
Brown's victory gives the Republicans 41 votes in the Senate, enough to stall the legislation and force Democrats to reconsider their options. One option that has been raised is pressing the House to vote on legislation approved last month by the Senate to avoid another Senate vote.
Senator Reid said, "We're not going to rush into anything. We're going to wait until the new senator arrives before we do anything more on health care."
Senator Olympia Snowe, a Republican who Obama and Democrats have courted for support in the past, characterized the Massachusetts vote as an "outright repudiation" of the Democrats' bill.