Oil executives check preparations for rig arrival in Falklands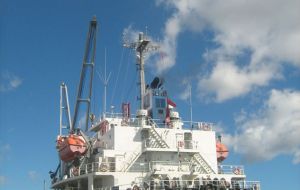 DRILLING chemicals, pipe casing and logging equipment are just part of the mass of physical supplies being offloaded in Stanley in preparation for the arrival of the oil rig in Falkland Islands waters next month.
Desire Petroleum plc (Desire) Chairman Stephen Phipps told MercoPress the large cargo ship Honest Rays, currently berthed at the islands dock, FIPASS, is the second to have landed supplies for storage at their lay down area run by local firm Byron Marine Ltd.
A supply helicopter for the rig Ocean Guardian, has already been delivered to the islands and will be based at Cape Dolphin at the furthest northern point on East Falkland Islands.
Speaking of logistical support for the rig and drill programme, Mr Phipps said, "…although it has all been rather rushed the level of support here in the Falklands is fabulous, it really is excellent bearing in mind it has been set up in three months rather than the more normal 8 months."
Mr Phipps is visiting the islands along with Desire Chief Executive Ian Duncan and two colleagues from the partner company Rockhopper Exploration plc, Chief Executive Sam Moody, and Exploration Director Dave Bodecott.
Apart from inspecting the supply base to the East of the dock, which they describe as, "very good," the group will have talks with the eight recently elected Legislative Assembly Members.
Desire Petroleum is a UK company listed on the Alternative Investment Market (AIM), dedicated to exploring for oil and gas in the North Falkland Basin.
The company participated in the first round of drilling in the North Falkland Basin in 1998. Desire now operates 6 licences in the area and Rockhopper Exploration plc have farmed-in to two of the tranches.
By Lisa Watson - SeAledPR - Stanley