"The best place to mine in South America (Chile) just got better"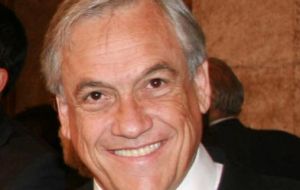 International mining groups this week were effusive in their support of Chile's newly elected president Sebastian Piñera, a billionaire businessman with substantial holdings in Lan Airline, Chilevision (a TV station) and Colo Colo (a popular soccer team).
Canada's Globe and Mail news reported a series of interviews Monday with international mining leaders, all ecstatic with the election results and all saying the mineral-rich and politically stable country will attract even more foreign mining investment under its new leader.
"His reputation is to have a favourable stance towards business and taxes, so those are all positives," said Tye Burt, the president and chief executive officer of Kinross Gold Corp. in a conversation with the Globe and Mail.
Kinross operates two mines in Chile and is considering investing close to US$2 billion more on a pair of development projects. "But even before Piñera stepped in, we think Chile is absolutely one of the best jurisdictions in the world for what we do," Burt said.
Piñera reportedly plans to offer new tax incentives to mining companies that develop new technologies and expand mining research. Chile already has an extremely low corporate tax rate of about 17 per cent for foreign mining firms on income that is reinvested back in the country.
Burt believes Chile's tax policy is so effective it should serve as a model for Canada's mining tax regime.
"I've been trying to urge the Canadian government to think about a similar stance to help Canada remain an attractive place for foreign investment in mining," he told the Globe and Mail.
Piñera's election brings to an end a 20-year reign in power of the centre-left Concertacion coalition, a four-party alliance that includes the Christian Democratic Party, the Socialist Party, the Party for Democracy and the Radical Party.
Piñera's presidential bid was supported by Chile's two rightist parties – his own moderate-right National Renovation (RN) party and the further-right Independent Democratic Union (UDI) party.
Among other campaign promises, Piñera pledged to sell up to 20 per cent of state-owned copper company Codelco, the world's largest copper producer. Participation in the world's largest copper producer would likely be sold to private pension funds in Chile, although Pinera's advisers have also floated the idea of listing Codelco shares on Chile's stock exchange.
The new president has also suggested creating incentives for companies to build desalinization plants to provide water to mining operations in dry regions such as the Atacama Desert, where miners including Teck, Kinross and BHP Billiton Ltd., the world's largest mining company, all have operations.
Teck, Canada's largest base-metals mining company, has spent more than $4-billion acquiring copper assets in Chile in the past three years. The deals have paid off handsomely for both Teck and Chile, as the price of the metal has rebounded dramatically in the past 12 months. Copper has climbed to more than $3.40 per pound from less than $2 last year, thanks to strong demand from China.
"Chile has great copper resources. It has a very stable political and economic system and a stable and well thought-out tax regime. Those factors are all good for encouraging investment," said Greg Waller, Teck's vice-president of investor relations.
Pinera's opponent, Sen. Eduardo Frei, had pledged to double revenues from Chile's five percent mining royalty to raise an additional US$300 million per year for government coffers, which raised mining firms' fears.
Orest Wowkodaw, a mining analyst at Canaccord Adams, said Pinera's election can only strengthen Chile's lead on rival countries as South America's top mining jurisdiction.
"It is the best. It is that simple. Ask any mining executive where they want to own assets in South America and No. 1 on their list is always Chile," he said.
By Steve Anderson (editor@santiagotimes.cl)