First Seaweed-Based Biofuel Plant Goes Ahead In Chile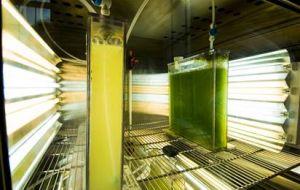 The ugly swarms of algae that plague Chile's beaches may be an alternative energy blessing in disguise. Chilean economic development corporation (CORFO) announced an investment of 7 million US dollars towards a seaweed-based bio-ethanol project spearheaded by Chile and U.S. scientists.
The project's ambitious goal is to produce 165 million litres of bio-fuel — an equivalent to 5% of Chile's petrol consumption — in one year.
The project is led by Seattle-based Company Bio Architecture Lab (BAL), in collaboration with the Universidad de Los Lagos and Chilean oil company ENAP.
BAL was first introduced to Chile's algae-production potential in 2009 when CORFO offered to help fund development and research of algae-based bio-fuel. This project will greatly increase Chile's capacity for clean energy alternatives, said Alejandro Buschmann of the Universidad de Los Lagos.
Seaweed-based bio-fuel can be directly added to the gasoline used in cars without motor modification. Unlike with sugar or corn-based ethanol, seaweed is cheaper to produce and much less is required to make biofuel, making it an ideal candidate for large-scale production.
Plans to install a small test plant in Puerto Montt are set for this year.
By Kamille Go (editor@santiagotimes.cl)