Argentine Central bank dispute moves to Congress on CFK request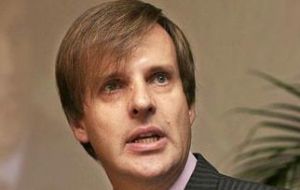 Argentina President Cristina Fernandez de Kirchner, CFK, cancelled a trip to China and called for a congressional committee to meet in an attempt to defuse the controversy over her plans to use Central bank reserves to pay for debts.
In a letter addressed Thursday to Vice president Julio Cobos, Mrs. Kirchner requests a congressional committee should issue its judgment on her decree firing central bank President Martin Redrado. A separate decree tapping 6.6 billion USD in reserves to pay debt should be taken up after the congressional recess ends in March, added the president. A federal judge has blocked both decrees.
Mrs. Kirchner's plan to use 6.6 billion USD in central bank reserves to make debt payments this year has sparked legal challenges and political tension, rattling financial markets and raising concerns that a planned bond swap could be delayed.
However she insisted the turmoil at the Central Bank would have no effect on the planned swap of 20 billion USD in defaulted bonds, which the Argentine government is expected to launch in the next few weeks.
"The removal of the president of the central bank is urgent and a delay over that decision could damage not only the government, but the national interest" claimed Mrs. Kirchner.
Redrado and opposition leaders have said that the central bank's charter stipulates that Congress has a role in the dismissal and hiring of the central bank's president. Opposition lawmakers have called on Mrs. Kirchner to convene Congress back from its recess to debate both decrees.
The government tried to fire Redrado on January 7 after he failed to back a presidential decree setting aside the reserves, saying he wanted to review the legality of the executive order. Redrado remains in his post.
Mrs. Kirchner also sent a letter to the head of the lower house of Congress, Eduardo Fellner, asking him to convene the Budget and Finance committees so they can nominate two members of five- member bi-cameral committee.
Those two members, along with the presence of Vice President Julio Cobos, who is head of the Senate, will provide a quorum on the committee and allow it to issue a statement on the decrees, she said.
Mrs. Kirchner said a 10-day trip to China, set to begin next week, was too long to leave the country in Cobos's hands. Cobos, who as head of the Senate cast a deciding vote against Mrs. Kirchner's plan to change farm taxes in 2008, has said Congress should debate the decrees.
The former governor was picked by Nestor Kirchner from the opposition Radical Civic Union party in 2007 and has said he plans to run for president in 2011.
"He has the right to be a member of the opposition, to disagree with the policies of the executive branch, but not from the post of the vice president," Mrs. Kirchner has repeatedly claimed. "He is not fulfilling the role assigned to him by the constitution,"
However Cobos has said he is not thinking about resigning and challenged the ruling party by saying that the only way to make him step down is through an impeachment procedure.
"Ask for my impeachment. Those criticizing me are public officials, bound to accuse me if they have the necessary elements to do it," he said. "Otherwise, they wouldn't be fulfilling their duties," he added, while warning them to "forget about Cobos' resignation."
Argentine political analyst Rosendo Fraga said Mrs. Kirchner's decision was unlikely to halt political bickering set off by her reserves plan. "This conflict is going to continue," he told a local Buenos Aires television channel.