Ex-para returns to Falklands to raise funds for combat stress charity
Friday, January 22nd 2010 - 16:59 UTC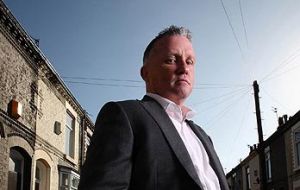 A Scottish Falklands' veteran is to recreate the paratroops' famous march to Port Stanley in a bid to raise funds for an armed forces charity. Ex-para Tony Banks, who is from Dundee and has built up a £60m care home business, wants to raise more than £10,000 for Combat Stress.
The charity helps veterans traumatised by their wartime experiences, including in Iraq and Afghanistan.
Mr Banks will return to the Islands for the first time since the war in 1982.
The 48-year-old millionaire and fellow Falklands' veteran, Wayne Rees, will trek across the island and meet with Islanders who were caught up in the conflict.
The 50-mile venture will also mark the sacrifices of the 255 British soldiers who died.
In October last year Mr Banks, the founder and chairman of the Forfar-based Balhousie Care Group, took part in Channel 4's "The Secret Millionaire", living undercover in Liverpool where he met Lee Sanger, a veteran of the Iraq War who suffered from post-traumatic stress disorder (PTSD).
At the end of his visit, Mr Banks donated £30,000 to Combat Stress.
Mr Banks said: "Those who serve in the armed forces never forget their wartime experiences and I watched several of my best friends die in the battles we fought in the South Atlantic.
"Fortunately I've been able to move on with my life but others have not been so fortunate.
"After filming 'The Secret Millionaire' I committed to support Combat Stress and do as much as I could to help them continue making a huge, positive difference to veterans suffering from mental illnesses like PTSD."
During their time in the Falklands their journey will include travelling over the Sussex Mountains, before descending to the site of the Battle of Goose Green where the 2nd Para Regiment experienced fierce fighting with Argentine forces.
Banks added: "More British veterans have died from suicide after the Falklands Conflict than during it, which underlines the vital work which Combat Stress carries out."
Trevor Royle, a Combat Stress trustee in Scotland and military historian, said: "At a time when the gulf between the armed forces and civilian society has widened, it's a tremendous boost to see supporters like Tony Banks doing so much to raise funds for Combat Stress and to help those ex-service personnel who have suffered as a result of their experiences."
The ex-para also wants to find the owner of a bugle which came into his possession while he was serving there. He said: "When I was working as a prison handler, I had to put the Argentines on to their boats, making sure they left with nothing more than their clothes.
"One chap standing in line was holding a trumpet.
"I felt bad but I couldn't let him take this away so I held on to it. Hopefully I'll have the chance to reunite it with its rightful owner."
To donate to the campaign in aid of the veterans' charity, log on to www.justgiving.com/TonyBanks