Around the world of music in one night, where the Latinos took front stage!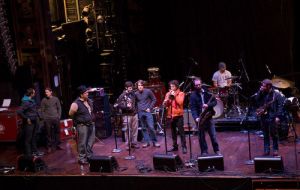 GlobalFEST, an annual world music festival held every January in New York City is a smashing night of musical discovery where artists from all over the world springboard themselves into the world music scene in New York.
Over a dozen artists on various stages performed at the seventh annual Globalfest — all under one roof at New York's historic Webster Hall. The World Music Institute, founded by Robert and Helene Browning, New York City's pioneers in introducing and promoting world music in the United States along with Joe's Pub at the Public Theater, and Acidophilus: Live & Active Cultures brought together a world-wide musical extravaganza -- French Gypsy jazz with breakbeats, cumbia-fied downtempo Argentine club sounds, soul-stirring Colombian roots, new generation Louisiana fiddling, Africa unplugged, Irish traditional song, Senegalese roots reggae, Central Asian avant rock, Romanian hybrid blues, New York salsa upstarts, and a Gwo-ka master from Guadeloupe.
The festival which has presented over 75 artists since its inception in 2004 showcases artists who may be new discoveries to a diversified audience of music fans and performing arts professionals and concert presenters, agents, managers, labels, and press all on the lookout for new talent. "We continue to bring several local U.S. based bands as well as international ones, some smaller bands that may be easier to tour in clubs and cabarets, and other larger groups for major festival markets," informed Joe's Pub Director Shanta Thake.
Nevertheless, the latin musicians from Argentina, Colombia and New York City's Bronx homeland wooed the audience with love songs, and stirred the crowds to dance into the wee hours of the night to salsa and cumbia beats.
Entirely self-produced Federico Aubele, Buenos Aires-born songwriter and guitarist, performed with a bolero and cumbia meets electro downtempo beat. The young musician is inspired by the classic and passionate sounds of bolero and Argentinean tango. He infuses his distinctive Spanish guitar sound with sultry vocals and subtle electronic beats to create a unique collage of intimate love songs. "It's such a vast and huge theme, love. You can approach it in different ways," reflects Federico Aubele. "Love is such an important thing for every human being, whether we notice it or not. We all experience it at least once in life. It's one of the few things, along with dying, that is guaranteed to happen to you." In 1 BC, Ovid, the original Latin lover wrote the Western world's first guide to picking up women, Roman-style, "Ars Amatoria, the Art of Love." Frederico Aubele swiped some pages from Ovid's playbook, included smoky tango bars and sultry heyday Mexican boleros from the 1940s, and produced his own "Amatoria" CD.
Bronx-based salsa orchestra, La Excelencia was formed in 2005, by Julian Silva and Jose Vazquez-Cofresi. They know how to do salsa music right. The group's zesty young members reclaim and relive the salsa dura (hard salsa) of the 1970s. The hard life of the bario is reflected in La Excelencia's music through their hard-core salsa beats expounding social consciousness through their music. Its unstoppable dance music, hectic percussion, screaming horns and passionate singers are all about reviving salsa dura's political consciousness. As they sing about immigration and Latin unity, as they beat on the wide range of drums - congas, bongos,etc., the audience went wild. Surprising one and all, the band members sprang from the stage, dropping themselves and their drums into the middle of the audience, to continue the show. "Just like we do in the Bronx," bellowed one band member, as dancers rushed to showcase their salsa steps and twirls out-doing each other amongst themselves.
The closing act, New York-based La Cumbiamba eNeYé with its multiple styles of Colombian cumbia grabbed the audience in a dancing spree for the night's grand finale. The 11 - piece band uses porro, the colombian cumbia rhythm with wooden flutes, and brass & percussion big-band cumbia along with Colombian female dancers dressed in traditional white, lacey dress and male dancers in handkerchiefs, coastal hats and candles. The band is known to deliver an eclectic, non-stop music and dance experience. "We need your help, because this is a party, and we're gonna have a lot of fun tonight," a member of La Cumbiamba eNeYe shouted as the band took the stage — and he was absolutely right as Globalfest 2010 went out with a bang as the band members united audience memebers in a long, circling line dance swaying to the cumbia beats. Layers of vocals, bongos, snares, brass and bass filled Webster Hall with dancing and more dancing.
By Dina Pinos for MercoPress – New York