China confirms commitment as leading economy for world recovery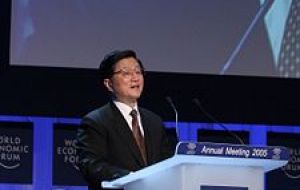 China reaffirmed its economic goals of raising domestic incomes and consumption while reducing its reliance on exports and investment. For this purpose China is pursuing a "proactive fiscal policy" and "moderately easy monetary policy" said Vice Premier Li Kegiang in a speech at the World Economic Forum in Davos.
Such policies he said, would lead to "huge markets for the world and huge opportunities" for foreign companies. "We will keep the continuity and stability of our macroeconomic policy".
"The goal is to strike a balance among promotion of steady and fast growth, readjustment of economic structure and proper management of inflation risks", added Li recalling that China's huge trade surplus was down by 100 billion USD in 2009.
Turning to the global economic crisis and the role of global governments, Li called for greater coordination and careful consideration of the way in which countries unwound stimulus packages.
"The international community should increase coordination and cooperation in macro-economic policies, identify the right direction and priorities of their economic policies...," he said.
Countries needed to withdraw their stimulus policies at the appropriate time to ensure that the global economy staged a complete recovery as soon as possible, he said.
Li also used his speech to sound a warning over protectionism.
Chinese state-owned firms have been blocked from proposed resource investments in the United States, Canada, Australia and Chile over the past five years, due to labour opposition and national security concerns.
"Trade protectionist practice will only exacerbate the economic crisis, slow down the recovery process and ultimately harm the interests of the very countries who apply such measures," he said.
Conclusion of the Doha round of trade talks could help, he said.
"It is important to ensure a more rational and balanced outcome of the Doha Round negotiations at an early date and make the global market more open" underlined the Chinese leader.
But steering clear of the sensitive topic of the Chinese currency, Li also said that China needed to manage inflation in an appropriate way.
Banks should "strictly" follow real estate lending policies, the China Banking Regulatory Commission said in a statement on its Web site yesterday. It repeated a call for banks to "reasonably control" lending growth.
Billionaire investor Geroge Soros said China's stock market is "overheating" and policy makers should seek to temper its gains.
"Right now, the Chinese market is overheating and they have to slow it down" insisted Soros. "It remains to be seen how successful they are."
China is poised to overtake Japan this year to become the second-largest economy after the U.S. China's GDP was 33.5 trillion Yuan last year, the statistics bureau said Jan. 21, almost the same as the World Bank's 2008 estimate for Japan.
The Chinese economy expanded 10.7% during the last quarter of 2009 from a year earlier, the fastest pace since 2007, buoyed by new loans. IMF forecasts China's growth will accelerate this year to 9% from 8.5% in 2009.
Real estate prices in 70 cities across China climbed 7.8% in December, the fastest pace in 18 months, a government report showed this month. The country's property sales jumped 75.5% in 2009 to 4.4 trillion Yuan, led by the eastern cities of Zhejiang and Shanghai, the National Bureau of Statistics said in a Jan. 19 statement.
Li Kegiang currently the executive deputy prime minister of China, is expected to take over from Prime Minister Wen Jibao in the leadership change scheduled for 2012; the prime minister is the second-highest government official in China after the president.
His speech to the world's political and business elite in Davos was his first high-profile international appearance. A year ago, it was Mr. Wen who took the podium here.