New species moving into Chilean waters because of climate change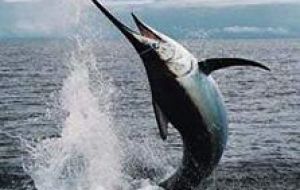 "I felt a rush and a little fear when I saw it," said Chilean surf champion Diego Medina after spotting what appeared to be a shark off the beaches of La Serena (Region IV). In reality, the creature was one of the large swordfish species that recently migrated to Chile's shores as a consequence of warming water currents.
The swordfish is just one of several species that have migrated from afar to Chile due to global climate change. Spanish marine experts have been tracking the sudden southward migration of swordfish from tropical seas since June 2009.
This summer has seen an unusually high number of unfamiliar wildlife sightings at many of Chile's beaches. Scientists blame El Nino, the environmental phenomenon that increases sea temperatures and consequently alters the sea's ecosystems.
Due to climate changes, "cold-inclined sea animals are arriving to our shores from waters that at one time were much cooler," said marine biologist Carlos Gaymer.
There is also an alarming case of jellyfish proliferation that has affected northern, central, and parts of southern Chile, added Gaymer. Earlier this month, swarms of jellyfish in Region X forced the closure of several Osorno beaches.
Large populations of sea turtles that normally do not inhabit Chile's coastline have also been making an appearance. "It's common to see an influx new species from distant areas when their previous environment is no longer habitable because of temperature increases," warned Universidad de Antofagasta marine researcher Carlos Guerra.
The oceans' warming is also taking its toll on local marine plant life. In some areas of Region V, biologists reported an overgrowth of "luche verde" algae, which has rendered many beaches dirty and foul-smelling.
Another explanation for the seaweed's proliferation is excessive industrial activity along Chile's coast, which creates more space for the growth of invasive species, said Andres Bello University aquaculture engineer Ana Maria Mora.
By Kamille Go - Santiago Times