Pork better than Viagra, give it a go, recommends unabashed Cristina Kirchner
Friday, January 29th 2010 - 11:57 UTC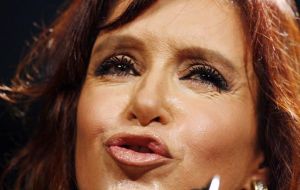 Argentine President Cristina Kirchner surprised guests at a business meeting by admitting eating pork improves sexual activity. Quite distant from her sharp lecturing style Mrs. Kirchner offered a rare non political intimate glimpse of the country's most powerful couple life.
"I've just been told something I didn't know; that eating pork improves your sex life ... I'd say it's a lot nicer to eat a bit of barbecued piglet than take Viagra" Cristina Kirchner said to leaders of the pig farming industry.
She said she recently ate pork and spent a satisfying weekend with her husband and former president Nestor Kirchner. "The crusty skin of the piglet was excellent; then things went very well that weekend, so it could well be true."
According to Cristina she spent "a fantastic, fantastic weekend". But "oops, should not have said that, Kirchner is going to kill me when I get back to Olivos (presidential residence)".
Apparently the fantastic weekend was enjoyed in El Calafate, Patagonia, where the couple has several properties and return to when they have a chance.
Argentines are the world's biggest per capita consumers of beef, but the government has sought to promote pork as an alternative in recent years due to rising steak prices and as a way to diversify the meat industry.
"Trying it doesn't cost anything, so let's give it a go," Fernandez said in the televised speech.
The president's half-joking speech in which she announced subsidies for the pork industry won prominent play on television and radio stations, prompting discussions on whether Argentines should add more pork to their diet.
Mrs. Kirchner approved subsidies to keep the price of pork low despite inflation, and her government has also recently subsidized red meat producers after beef supplies sharply declined in Argentina.
The head of the association of pork producers, Juan Luis Uccelli, supported the presidential remarks by saying that Denmark and Japan have a much more "harmonious" sexual life then the Argentines because they eat a lot of pig meat.
"In Osaka, Japan, there is a village in which the people who reached 105 years old and ate a log of pork had a lot of sexual activity," he told radio Mitre.
Others were sceptical. "There is no study showing that pork meat significantly improves sexual activity," Amado Bechara, a specialist in sexual dis-function, told the Web site of the newspaper La Nacion.